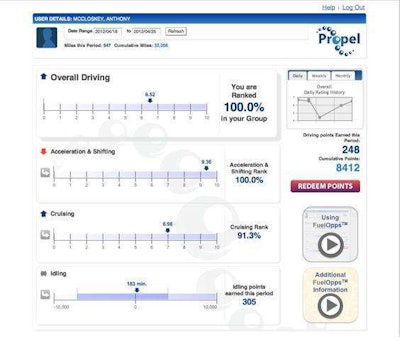 Pittsburgh-based Propel IT, provider of the FuelOpps fuel efficiency application, announced a new collaboration with Qualcomm Inc. through which FuelOpps now integrates with Qualcomm's Mobile Computing Platforms and leverages data from Qualcomm's Performance Monitoring application to give fleet managers and drivers a more accurate and easy-to-use view of their fuel efficiency. FuelOpps also has an optional driver incentive system designed to reward drivers for improving their efficiency rating.
"FuelOpps rates drivers based on the key factors that affect efficiency," says Yunsu Park, Propel IT chief technology officer. "FuelOpps gives all drivers in a fleet the ability to improve their rating and earn rewards, regardless of the age of the vehicle, load or climate conditions."
FuelOpps now is available to fleets using Qualcomm's MCP50, MCP100, MCP110 and MCP200. Fleets using Qualcomm's Performance Monitoring application with Fuel Manager, as well as FuelOpps, can create driver performance incentive programs.
Propel IT says the integrated system offers additional views of driver performance based on engine specifications, load types, geography and climate. Trucking companies have to ability to use both the ratings and rewards system, or integrate the ratings systems into their own internal incentive plan, the company says.
"With fuel efficiency top of mind for fleet managers today, the availability of FuelOpps, as a complement to the fuel management benefits of our Performance Monitoring application, delivers helpful and actionable information to fleets to drive greater efficiency and streamline operations," says Norm Ellis, vice president of sales, services and marketing for Qualcomm Enterprise Services.