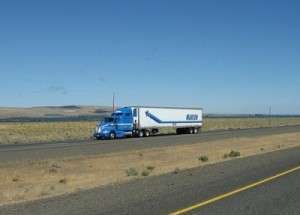 Marten Transport announced it recently completed a series of enhancements to its driver compensation package. The most recent changes transition the former quarterly performance and safety bonuses over to monthly bonuses, which the Mondovi, Wis.-based company said puts more money in the hands of its drivers more quickly.
"We wanted to present our drivers with truly attainable bonuses, not the unreachable carrots on a string like so many other carriers offer," said Tim Norlin, director of recruiting for the refrigerated hauler.
Under the new tiered monthly performance bonus, drivers can earn $50, $100 or $200 in monthly performance bonus by running anywhere between 9,500 to 10,000 or more miles per month. Teams can earn up to an additional $300 each per month.
With the new monthly safety bonus, drivers can earn an additional $70 per month by operating their tractor-trailer safely and participating in a monthly safety video and quiz presented over their Qualcomm unit.
"Our drivers have the real potential to earn an additional $120 to $270 per month in these bonuses," Norlin said. "That's an extra $3,240 per year or more."
These bonuses complete enhancements to Marten's driver compensation package that also includes Marten's Fair Pay mileage scale where drivers are paid higher rates on lower lengths of haul, automatic detention pay of $20 per hour after two hours waiting to load or unload, $20-per-hour trailer maintenance downtime pay, $100-per-day layover pay and $150 holiday pay.