With Anderson Trucking Service Vice President of Driver Recruiting Oscar Kleman
Location: St. Cloud, Mo.
Drivers: 1,200 total
Power units: 2,100
Trailers: 6,130
Anderson Trucking Service goes fishing
By Carolyn Magner Mason
Oscar Kleman, vice president of driver recruiting for Anderson Trucking Service, says the St. Cloud, Minn.-based heavy-haul company has had great success with innovative recruiting and driver appreciation programs, resulting in increased driver satisfaction and retention.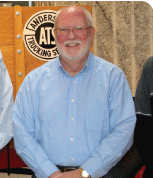 Recently, four drivers from a pool of the company's million-mile honorees were selected randomly to go on an all-expense-paid fishing and hunting trip in Port Charlotte, Fla., as part of the recent ATS Great Fishing Trip Giveaway hosted by Rollie Anderson, ATS chief executive officer, and Gary Stang, vice president of ATS Specialized. The anglers were led by professional guide Tom "Fish" Fischer and enjoyed quality time with Anderson.
Another fishing trip included treating 12 randomly selected drivers to an all-expense-paid junket to northern Minnesota guided by Hall of Fame fisherman Ted Takasaki and ATS family members and executives, who provided custom-crafted rods and reels, special fishing shirts and caps. The trip included airfare, lodging at a five-star resort and all expenses paid, including one week's average pay.
How do the hunting and fishing trips show drivers they are valued?
These all-expense-paid trips are truly a once-in-a-lifetime experience. The four million-mile drivers we randomly selected will treasure this trip forever. How often do you have a chance to spend days relaxing with the CEO?
How do you publicize the program to your drivers?
The rules for this contest were published on our Website. The million-mile drivers were selected at random from all active million-mile drivers.
What was the feedback from the trip?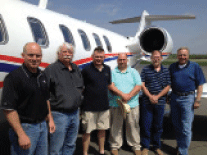 Everyone experienced success with the hunting and fishing. Success was a lot more than setting a hook or pulling a trigger. It was enjoying nature, camaraderie, the experience and the conversation in getting to know one another better. Gary (Stang, vice president of ATS Specialized) summed it up best by saying, "Al Ritter, Mike Vasseau, Julian Dmyryszyn, Walter Hooper and Rollie Anderson, thank you for one of the best trips of my life."
What other programs show driver appreciation?
In addition to an annual driver appreciation celebration, we have weekly lunches with management to discuss the company and determine what we can do better. We make certain that all drivers get home for Christmas, any driver stopping through the St. Cloud headquarters is treated to a catered lunch, and our Million Mile Awards program, just to name a few.
Have you seen increased retention since starting these programs?
Absolutely. ATS has one of the lowest turnover rates in the industry. This is a reflection of not only how drivers are treated but also the quality of drivers we recruit for our fleet.
How do you reward driver referrals?
Drivers are awarded $1,000 for each driver referral. Our current contest runs through April 30, 2013. Twenty drivers will have an opportunity for a guided fishing trip next year. Each driver referral earns a chance.
How do you plan to stay on the cutting edge of finding and retaining good drivers?
Finding enough safe, experienced drivers is a challenge every carrier faces. We have implemented some unique advertising campaigns in the past, but our best drivers come from our referral program. We are not perfect, but our success, financial stability and retention rate speak highly of the opportunities at ATS.