Love's Travel Stops launched RFID cardless fueling technology and Comdata's financial processing software at their Pauls Valley, Okla. location. The company plans to continue to roll out the RFID software at all travel stop locations by the end of September. More than 100 of Love's locations will have cardless fueling technology available for professional drivers by the end of August.
"We are excited about what we consider the 'next generation' of fuel transaction processing through RFID technology," said Jon Archard, director of fuel marketing at Love's.
RFID technology automates the fueling process with the use of low-cost RFID tags in professional driver's vehicles. The software and RFID equipment are designed to detect a truck's RFID tags in the fueling lane and turn on dispensers wirelessly, with little or no driver data input. RFID technology saves time for professional drivers and offers a secure financial transaction. Pumps are automatically turned off by RFID software after a truck leaves the fueling bay, which can reduce fuel theft incidents.
In addition to completing a live customer transaction using Comdata, Love's has successfully used DFConnect for cardless fueling transactions with their fuel tanker fleet for the past year.
"Our fleet has been very satisfied with the ease and automation of using cardless fueling technology at Love's locations for the past year," said a Love's spokesperson. "With the advantages provided through cardless transactions, including improved fuel theft control and a more efficient transaction process at the fuel island, we are taking a significant step in providing our customers yet another reason to choose Love's Travel Stops."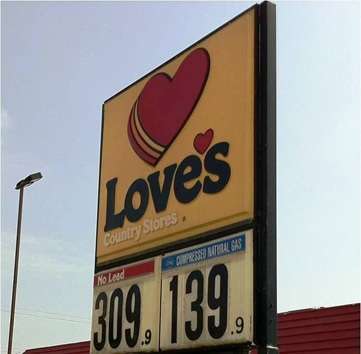 Love's is currently working with Comdata, a proven leader in processing financial transactions, and QuikQ, the company that developed Fuel Island Manager software. Love's has also successfully completed transactions using DFConnect processing and anticipates integrating additional billing card processors into the program.