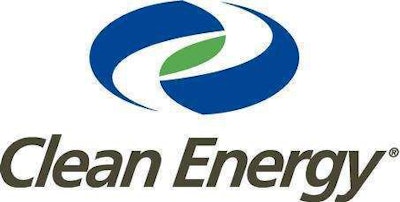 Clean Energy Fuels has released "The Road to Natural Gas," a listing of trucking companies, refuse haulers, fleet operators, airports, municipalities and other organizations which have signed new or expanded existing agreements with Clean Energy to provide natural gas transportation fuel and other services for their vehicles and fleets. The report contains only information which has not been previously announced, including recently completed stations on Clean Energy's America's Natural Gas Highway with Pilot Flying J and at other interstate locations.
"After working on developing the natural gas fueling market for 15 years, it's very gratifying to see all the pieces come together," said Andrew J. Littlefair, Clean Energy's CEO and president. "There are natural gas engines now available for more vehicle classes, the U.S. has an abundant supply of cheap natural gas and there is a greater understanding of the economic and environmental benefits of using natural gas as a transportation fuel."
Included in the first "The Road to Natural Gas" is a listing of agreements recently signed with local transportation authorities, private refuse companies and city refuse operators, taxi fleets, and regional and national trucking companies that carry products for some of the world's most well-known brands that are converting their vehicles and buying their natural gas fuel from Clean Energy.
Trucking companies added to the company's expanding roster include 99¢ Only, Land O' Lakes, The Linde Group and Kenan Advantage Group. The company's newly announced natural gas fueling stations include:
Amarillo, TX – Pilot
Birmingham, AL – Flying J
Brookshire, TX – Flying J
Dallas, TX – Clean Energy
El Paso, TX – Flying J
Fort Worth, TX – Pilot
Hope Hull, AL – Flying J
Knoxville TN – Flying J
LaSalle, IL – Flying J
Latta, SC – Flying J
Oklahoma City, OK – Flying J
Pearl, MI – Flying J
Phoenix, AZ – Flying J
Tifton, GA – Pilot
Tulare, CA – Clean Energy
Salina, KS – Flying J
San Antonio, TX – Flying J
Theodore, AL – Pilot
Weatherford, TX – Pilot