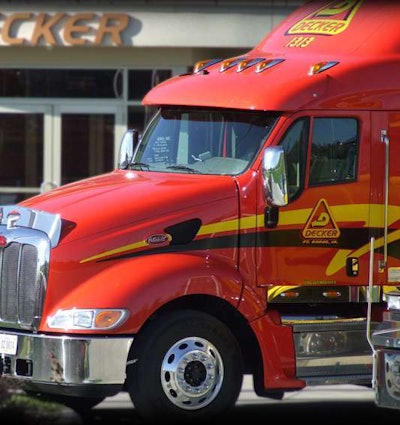 Decker Truck Line announced the relocation and grand opening of its new terminal in Bessemer, Ala. The new office and shop facility, previously located in nearby Birmingham, is a quarter-mile from Interstate 59/20 on Powder Plant Road and is part of a $2 million expansion project to serve Decker customers in 16 Southeastern states.
The new terminal now includes a two-story 8,000-square-foot office complex that houses operations, dispatch, driver training and a driver center; a 15,700-square-foot three-bay shop and more room to park on its 8-acre grounds for the 71 trucks that work out of the new location.
"We couldn't be happier with this new terminal," said Karl Westfall, manager of the Bessemer terminal. "Decker has always been dedicated to giving us what we need, and this new terminal space will help us increase our work force in the South."
The 24-hour driver center's amenities include a lounge; two quiet rooms equipped with computers, cable TV and Wi-Fi; shower and laundry rooms for drivers; and a company car that drivers can use to drive into town for dining or errands.
Westfall said that Decker's goal is to hire additional drivers to boost its total number of drivers based at the Bessemer terminal to 100 by the end of 2012.