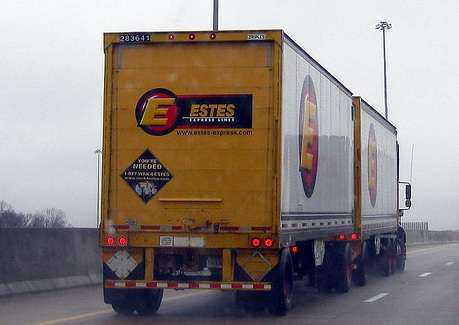 Estes Express Lines has announced the promotion of two Estes leaders in operations and sales. Al Bucher has been named corporate vice president of operations, and Pat Martin is now corporate vice president of sales.
Prior to this promotion, Bucher served as Estes' regional vice president of the Great Plains, a position he held since joining the company in 2010. His history with Estes started in 2002 when he joined Lakeville Motor Express as director of operations. Both companies were part of ExpressLink, a regional carrier network formed to cover the United States and Canada. Bucher went on to become president and executive vice president of LME. He started his freight transportation career in 1981, holding various operations and sales positions with Hyman Freightways, American Freight Lines and Dayton Freight Lines.
Martin is responsible for revenue growth management for the less-thab-truckload division specifically, as well as the coordination of sales strategies enterprisewide. Martin joined Estes in 2001 in Richmond terminal sales and has served Estes in numerous posts, including regional vice president of Estes West and vice president of field sales and strategic planning.
"Fundamental to Estes' success is the breadth of our leadership experience and expertise that enables us to provide the highest-quality freight transportation services and outstanding customer service," said Billy Hupp, chief operating officer and executive vice president of Richmond, Va.-based Estes.