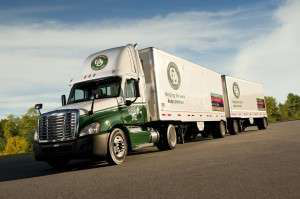 Old Dominion Freight Line on Thursday, Aug. 2, announced record financial results for its second quarter and six months ended June 30. For the second quarter, revenue increased 12.8 percent to $541.5 million compared with $480.3 million for the second quarter of 2011. Net income increased 21.5 percent to $47.8 million from $39.4 million. Old Dominion's operating ratio improved to 84.7 percent from 86.5 percent.
For the first six months of 2012, revenue increased 15.0 percent to $1.04 billion from $902.9 million for the first six months of 2011. Net income was $78.9 million, up 29.5 percent from $61.0 million. The company's operating ratio improved to 86.8 percent from 88.6 percent.
"Old Dominion's second-quarter performance was truly exceptional, as we set quarterly records for our revenue, margins and earnings per diluted share," said David Congdon, president and chief executive officer of the Thomasville, N.C.-based less-than-truckload carrier. "During the second quarter, we continued to build significant momentum in efficiency and profitability, while continuing to win additional market share."
Congdon said Old Dominion attributes its continued success to a "highly efficient" operating structure, an emphasis on customer service and fair pricing. "We are excited about the opportunity these fundamentals provide, which should allow us to further expand our market share and achieve our long-term growth objectives," he said.