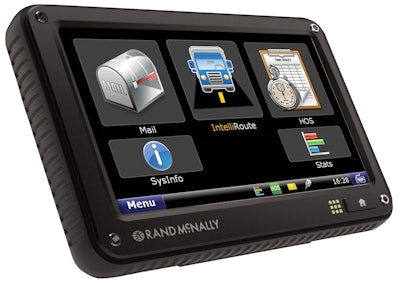 Rand McNally announced that its TND 760 has been chosen by Ryan Transportation Group for full deployment to its fleet of 150 trucks. Ryan Transportation will use the integration provided by Rand McNally's Connect software to link data coming from the in-cab devices to TruckMate software from TMW Systems, streamlining business operations.
Executives at Ryan Transport, a provider of freight brokerage and logistics services for multiple industries across North America, say that while they considered other providers of electronic logs and mobile communication, they chose Rand McNally for its ease of installation, integration capabilities with other management software and functionality that was easy for a driver to understand and use.
"Rand McNally's TND 760 EOBR devices provide outstanding benefits for an affordable price," said Scott Simpson, senior vice president of operations and administration for Ryan Transportation. "What really sold us on Rand McNally was their partnership approach to helping us develop a product and process that would grow with our company. They proved that the TND 760 can be an off-the-shelf offering or can be easily customized to meet your business needs."
Simpson said Ryan Transportation is looking forward to streamlining its operations with the TND 760, enabling the company to spend more time planning versus reacting to situations that already have occurred. Specifically, the company now will have visibility into arrival and departure time to assist in customer management and invoicing, and driver logs and location to ascertain driver availability for additional loads. Drivers will have Rand McNally's truck-specific navigation available at their fingertips, reducing support calls into dispatch for directions.
The Rand McNally TND 760 is built to integrate seamlessly with a truck's onboard computer and send and receive information via both Wi-Fi and cellular modes, and is designed to be set up in less than 30 minutes. "Our drivers are particularly excited about the navigation capabilities," said Tammy Stowell, system administrator for Ryan Transportation.
Ryan Transportation will use the integration provided by Rand McNally's Connect software to link data coming from the in-cab device through to its transportation management software from TMW Systems. Ryan Transportation plans to use geofencing capabilities to track entry and exit of their trucks at customer locations, as well as to help manage maintenance issues and dispatch planning.