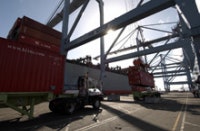 The Port of Long Beach announced that overall container traffic dropped 8.8 percent in July compared to the same period a year ago, with imports down 10 percent and exports down 1.9 percent.
Last month, port terminals handled 522,486 20-foot equivalent container units compared to 572,926 TEUs in July 2011. Imports containers accounted for 261,233 TEUs compared to 290,314 TEUs in July 2011. Exports accounted for 124,574 TEUs compared to 126,968 TEUs a year ago.
Calendar year to date, overall container traffic at the port is down 5.5 percent through July. The decrease in volumes is due partly to the slow national economic recovery, which led to the elimination of ship calls by several niche service strings.
Empty container moves were down 12.2 percent to 136,679 TEUs last month compared to 155,644 TEUs in July 2011; empty containers are sent overseas to be refilled with goods.