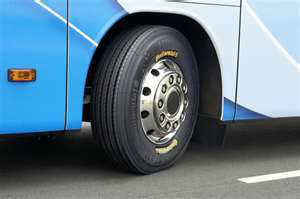 The Federal Motor Carrier Safety Administration on Thursday, Aug. 16, said several recent incidents involving tire blowouts on passenger buses have prompted the agency to take a closer look at the potential cause of these incidents. In partnership with the National Highway Traffic Safety Administration, FMCSA has conducted preliminary investigations that show potential safety concerns related to double-deck buses that may overload tires outside the suggested weight limit.
Under specific circumstances, motorcoaches utilizing the double-deck design may be susceptible to exceeding the tire weight limit when loaded with passengers and luggage at full capacity. FMCSA said these risks can be avoided by loading passengers and cargo properly, and increasing pressure in tires on the rear wheels.
FMCSA said its Motorcoach Safety Advisory Bulletin is meant to raise awareness of this issue within the bus industry and urge companies to take action to prevent potential safety risks. "Travelers have a right to expect that their bus will be safe and well-maintained, and bus companies have a responsibility to make sure it is," said U.S. Transportation Secretary Ray LaHood.
The Advisory Bulletin states that safe motorcoach operators should have policies and procedures in place to monitor the loading of their vehicles, and take appropriate action – such as reducing passenger/cargo loads, distributing passengers throughout the bus or increasing tire pressure – to ensure that they remain within the allowable tire weight rating and state vehicle weight limits.
FMCSA said it is working with state officials to increase enforcement of these safety provisions of federal and state laws. According to the agency, a tire on a motorcoach loaded beyond its weight rating, operated at highway speeds for a significant period of time, is more likely to overheat and fail, potentially placing the safety of passengers and other motorists at risk.
"Our mission is to prevent crashes, injuries and fatalities involving large trucks and buses," said FMCSA Administrator Anne S. Ferro. "That is why we are asking each bus company to put safety first by paying careful attention to their procedures for checking tire pressure and loading passengers and luggage, in order to ensure the safety of travelers."