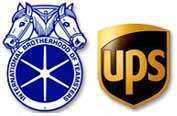 UPS on Friday, Aug. 24, announced an agreement with the New England Teamsters and Trucking Industry Pension Fund to restructure pension liabilities for about 10,200 UPS employees. The agreement reflects a decision by NETTI's trustees to establish a second pension plan "pool" to make it more attractive for new employers to join the fund.
Such a structure is designed to allow employers to assume responsibility only for their own employees without regard to any previous fund liabilities. UPS said this structure allows the company to freeze its liability in the original pool, establish its payment obligations and move UPS employees into the new pool.
UPS will record a one-time charge of $896 million in the third quarter. This charge represents the present value of the company's $2.1 billion withdrawal liability from the original pool, which it will pay over the next 50 years. Subject to approval by local unions, the withdrawal will be effective Sept. 16.
In addition, UPS and NETTI have agreed to a contribution rate for future accruals designed to ensure UPS employees do not see a reduction in their pension benefits, and the company will not be required to increase cash contributions for 10 years.
"UPS's goal when considering any change to participation in a multiemployer pension plan is to safeguard the pensions earned by our employees in a cost-effective manner," said John McDevitt, UPS's senior vice president of human resources and labor relations. "This transfer will remove uncertainty associated with this plan for our people while being fair to the company and our investors."