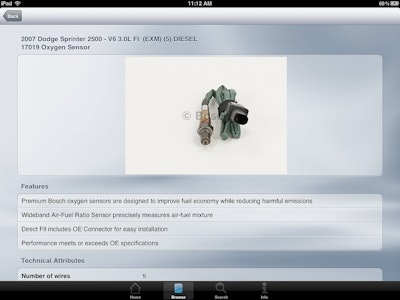 Users of an iPhone, iPad or Android phone or tablet who need a Bosch part for a vehicle can get the information they need from their mobile device. In addition to the initial Apple version of its Vehicle Part Finder app, Bosch now has released an Android version of the app. Bosch products currently covered in the Vehicle Part Finder app include spark plugs, wiper blades, oxygen sensors, fuel pumps, battery chargers — and now air management sensors, gasoline fuel injectors and glow plugs – providing part numbers along with images, features and technical attributes for vehicles operating in the United States and Canada.
"The addition of Android mobile devices expands the penetration of the Part Finder app significantly, as these devices gain in popularity," said Otto Stefaner, project manager for Bosch. "All functions available in the iPhone and iPad app are now available in the Android version as well. The app is a real boon for customers, service and sales personnel. Anyone who needs to find a Bosch part number from these selected product lines can do so quickly and easily."
The Bosch NA Vehicle Part Finder for an Apple iPhone or iPad can be downloaded from the Apple iTunes App Store. The app for Android devices can be downloaded from the Amazon App Store for Android or from Google Play. The app features both Browse and Search functions so users can find part information by entering vehicle year, make and model or by entering the Bosch part number.
Separate from the mobile app, the Bosch Vehicle Part Finder on the www.boschautoparts.com Website now features rotatable and scalable 360-degree images for oxygen sensors, fuel pumps and other engine management components. The user clicks the 360-degree symbol to open the image player. The player shows a 360-degree view of the part and includes options to zoom in on the image and advance the 360-degree "movie" manually image by image, and also offers a full-screen viewing option. More 360-degree images for additional product lines will be rolled out in the future.
A special tab also has been added to view a product warranty statement. Warranty data has been loaded for most products found on www.boschautoparts.com.
"The Bosch Part Finder app complements the comprehensive Vehicle Part Finder function on the Website, which lists part numbers for products available on the Bosch Part Finder app as well as additional Bosch product categories," Stefaner said. "This makes it easy to find the right Bosch part for virtually any vehicle sold in the U.S.A. and Canada." More product lines will be added to the app soon, he said.