What if housing rises and manufacturing falls?
By Avery Vise
Some of the numbers are worrisome. Factory orders seem to be slowing. And in June and July, the Institute for Supply Management's Purchasing Managers Index showed a contraction – albeit a slight one – in the manufacturing sector. So ends nearly three straight years of expansion.
Also, the inventories-to-sales ratio throughout the U.S. economy rose in May and June to 1.29 – the highest since February 2010. Everyone should remember what happened when the inventories-to-sales ratio ballooned in late 2008. The inventories-to-sales ratio reflects far more than just the U.S. manufacturing industry, but it does reinforce the other weakening manufacturing indicators. As manufacturing goes, so goes trucking – at least in terms of freight volume.
It's far too early to declare an end to manufacturing's expansion, but there are reasons to be concerned. With much of America's machinery, parts, components and finished goods destined for foreign customers, the manufacturing sector is more exposed to global forces than housing and some other sectors.
The rest of the world isn't looking good. Most of Europe is in a recession, and China's growth is slowing – even by its official government estimates, which likely are inflated. Speaking at last month's Commercial Vehicle Outlook Conference in Dallas, James Meil, chief economist for Eaton Corp., said that Eaton's estimate of year-over-year industrial production growth in China is less than half the official estimate.
It's also too early to declare a long-term recovery in the housing construction market even though all monthly indicators – starts, permits, new-home sales and existing-home sales – are consistently higher year-over-year. But those gains are off a low base. Still, prospects for a housing recovery probably are stronger than those for a manufacturing collapse. According to Census Bureau estimates, there was only 4.6 months' inventory of new homes available for sale in July at the current sales rate. You have to go back to the overheated market of 2005 to find inventories so tight.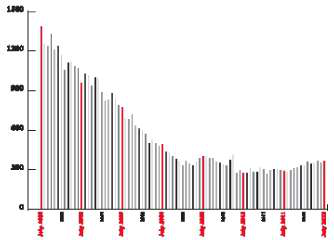 The reasons for a tight inventory of new homes are different today than seven years ago when the key factor was strong demand; now it's low supply. Still, the situation likely will spur more construction. And it's not just new homes; the supply of existing homes is tight, too, according to the National Association of Realtors, which is seeking actions to free up more foreclosures for resale. With U.S. employment continuing to rise, the housing recovery should continue.
Aside from the increase in trucking demand related to home building, a housing recovery could affect all trucking operations on the supply side. Imagine how much tougher driver recruiting and retention would have been in the past couple of years had residential construction been stronger and you had to compete with home builders for labor.
Over the next several months, the outlooks for manufacturing and housing will become clearer. But start thinking now how you might respond to the shifting economic landscape. Perhaps that involves scoping out customers tied to housing as a hedge against lower demand from manufacturing customers. Or maybe you need to prepare to ratchet up your driver recruiting efforts. Whatever the response, recognize that the times they are a changing.
AVERY VISE is executive director, trucking research and analysis for Randall-Reilly and senior editor, industry analysis for Commercial Carrier Journal. E-mail avise@truckgauge.com.