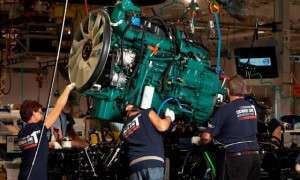 Economic activity in the manufacturing sector contracted in August for the third time since July 2009, but the overall economy grew for the 39th consecutive month, say the nation's supply executives in the latest Manufacturing ISM Report On Business released Tuesday, Sept. 4.
The overall PMI registered 49.6 percent, a decrease of 0.2 percentage point from July's reading of 49.8 percent, indicating contraction in the manufacturing sector for the third consecutive month; this is also the lowest PMI reading since July 2009 when it registered 49.2 percent.
A reading above 50 percent indicates that the manufacturing economy generally is expanding; below 50 percent indicates that it generally is contracting. A PMI in excess of 42.6 percent, over a period of time, generally indicates an expansion of the overall economy.
ISM's New Orders Index registered 47.1 percent in August, a decrease of 0.9 percentage point when compared to the July reading of 48 percent, representing a contraction in new orders for the third time since April 2009 when the New Orders Index registered 46.8 percent. A New Orders Index above 52.3 percent, over time, generally is consistent with an increase in the Census Bureau's series on manufacturing orders.
ISM's Production Index registered 47.2 percent in August, a decrease of 4.1 percentage points when compared to the 51.3 percent reported in July, indicating contraction in production for the first time since May 2009 when the Production Index registered 43.9 percent. An index above 51.2 percent, over time, generally is consistent with an increase in the Federal Reserve Board's Industrial Production figures.
"Comments from the panel generally reflect a slowdown in orders and demand, with continuing concern over the uncertain state of global economies," said Bradley Holcomb, chair of the Institute for Supply Management Manufacturing Business Survey Committee.