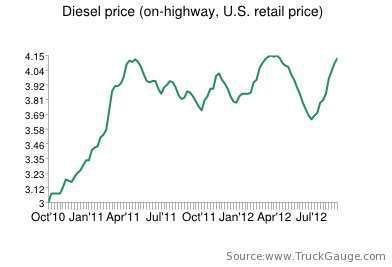 The national average retail diesel price climbed for the ninth consecutive week, climbing 3.8 cents to $4.127 a gallon during the week ended Monday, Sept. 4, according to the U.S. Department of Energy's Energy Information Administration. EIA's weekly survey of U.S. diesel prices was delayed one day because of the Labor Day holiday.
During 12 straight weekly declines from April 16 through July 2, the price of diesel had dropped 49.9 cents a gallon; since that time, the price has climbed 47.9 cents. Two weeks ago, the price surpassed the $4 mark for the first time since May 14. This week's price is 25.9 cents above the same week last year.
Average retail prices rose in all regions, led by an 8.4-cent increase to $4.493 a gallon in California, the nation's most expensive diesel by region. The least expensive diesel on average was $4.026 a gallon on the Gulf Coast, where prices climbed 4.5 cents.
Complete diesel price information is available on EIA's Website.