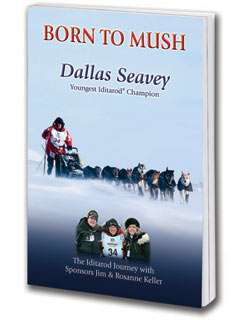 How does a boy, hooked on mushing since age 5, grow up to become the youngest person in history to win Alaska's Iditarod Sled Dog Race? That is the question Dallas Seavey answers in "Born to Mush," a book that an inspirational message of believing in oneself by focusing on the moment, finding joy in facing challenges and mustering the courage to pursue dreams.
The book contains exclusive content that chronicles Seavey's life from growing up in a mushing family and establishing his own kennel, to working with his sponsors to put together a strategy for becoming the youngest person to win the Iditarod. "Without all the J.J. Keller support and James and Rosanne Keller's sponsorship, I would not have been able to compete and win the Iditarod," Seavey said. "It's a team effort."
Co-author James J. Keller of J.J. Keller & Associates – a provider of safety and compliance products – and his wife Rosanne came to believe in Dallas' dream six years ago when they met Dallas and formed the sponsorship. "I considered Dallas a potential champion in 2006 when we met," James Keller said. "Now, after his 2012 Championship, I consider him the top musher in the world."
"Born to Mush," published by JJK Sports Entertainment Ltd., contains 160 pages, including maps, sled dog and gear layouts, and 12 pages of color photos. It is available at jjkeller.com/iditarod for $19.95 plus S&H; autographed copies are $24.95 plus S&H. Call 920-727-7340 for pricing on larger quantities.