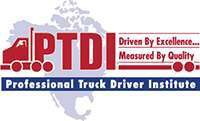 The Professional Truck Driver Institute announced that it is expanding its reach in Canada and beyond as it continues to receive international requests due to the increasing Internet visibility and harmonization of regulations across borders. For Louise Philbin, education director and founder of 5th Wheel Training Institute, in Haileybury, Ontario, Canada, which recently received PTDI course recertification at its two sites, that's good news. The rural, northern Ontario school received its initial course certification in 2000.
"At the time, PTDI certainly was a visionary idea in Canada," said Philbin. "Today, I see PTDI certification as even more relevant for us as a Canadian school with the increasing competition, the changes in regulation and the North American Free Trade Agreement, which means there's a lot more harmonization of standards between the two countries. Our students are prepared to cross over the border and drive in the states because our program covers all the U.S. requirements and regulations."
Philbin said that over the years, PTDI has become more attractive in that students recognize its importance through Internet exposure. "In years past, there was a lot of lip service to the standards, but now there's an awareness that the higher standards are very important to students, to the trucking industry, to funders and even to insurance companies, so now it's become value-added for us to follow the same international standards," she said.
Al Gurka, site manager of Schuylkill Technology Center, in Pottsville, Penn., who also has offered PTDI-certified courses since 2000 and which were recently recertified, said the PTDI Website is a great tool for his school. "Prospective students can check the Website to see what kind of training they will receive," Gurka said. "And carriers absolutely check the PTDI Website. They send us prospective students based on the fact that we have PTDI certification."
PTDI certification coordinator Marlene Dakita said that because of the Website, the institute has received inquiries and/or applications from educators not only in Canada and the United States but in Egypt, Guam, Guatemala, Mexico, and Saudi Arabia; they even had interest from a contractor working with the U.S. Army in Iraq. Plus, she regularly receives inquiries through PTDI's Website from prospective students looking for information on schools with a PTDI-certified course.
"We continue to get recertified because the PTDI certification gives us national and international recognition that some small schools don't get," Gurka said. "And we know that if our students move to Canada, they would be recognized there as well." The current list of all schools with PTDI-certified courses can be found at www.ptdi.org.