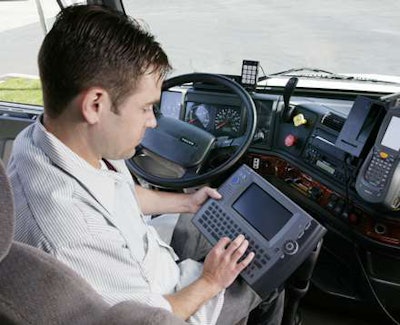 Qualcomm Inc., a provider of integrated wireless systems, applications and services to transportation and logistics companies, and McLeod Software, a software provider for the trucking industry, announced customized enhancements to McLeod's LoadMaster LTL enterprise dispatch and operations system to improve driver workflow.
Building on Qualcomm's Driver Workflow application framework, McLeod extended the capabilities of its LoadMaster LTL enterprise dispatch and operations system to allow less-than-truckload fleets to work more efficiently with access to timely driver updates and automated dispatch information.
Qualcomm's Driver Workflow application helps deliver the right information to the right driver at the right time. The application integrates near real-time data with fleet management software and automates many driver functions. Additionally, intuitive in-cab and front office interfaces help reduce driver training time, increase fleet visibility and improve regulatory compliance. Qualcomm said the new collaboration with McLeod's system further automates dispatch information to improve the efficiency of both drivers and dispatchers by building a bridge between the driver and office operations.
McLeod said the core functionality of its LoadMaster LTL system focuses on local pickup-and-delivery activities while simultaneously managing linehaul operations among multiple terminals; customers also benefit from an intuitive drag-and-drop interface for routing, a robust Web interface and accurate ratings. The system helps carriers accelerate cross-dock and trailer capacity management processes. Data collection and communications are tightly integrated at the truck level, as well as with forklifts with mounted or handheld devices on the dock, helping to reduce errors.
"The integration of our Driver Workflow application with McLeod's LoadMaster LTL system adds to the more than 25 existing Qualcomm-McLeod integrations, enhancing the overall fleet management capabilities of our shared customers," said Norm Ellis, vice president of sales, services and marketing at Qualcomm Enterprise Services. "Fleets that leverage this joint solution – and their customers – will benefit from a number of improvements that increase productivity of both drivers and dispatchers."
Developed specifically to meet the requirements of LTL fleets, the combined solution can improve the driver experience, as it provides a user-friendly in-cab application for completing a step-by-step process for trip stop, arrival and departure tasks, delivering more accurate information to the dispatch system; according to the companies; it also eliminates the need for macros and text messaging, presenting trip information in a clear, concise format with structured reminders of processes at each stop.
"McLeod LoadMaster LTL is an end-to-end operations management solution that provides customers with optimized fleet management capabilities," said Tom McLeod, chief executive officer and founder of McLeod Software. "By collaborating with Qualcomm, we're pleased to offer further value to our customers through improved customer service and asset utilization."
Qualcomm also announced that its In-Cab Navigation application offerings now are integrated with McLeod's LoadMaster Dispatch Software, offering automatic stop-by-stop routing through the In-Cab Navigation applications, removing a driver's need to manually enter addresses while improving a driver's ease-of-use for next route selection. Qualcomm and McLeod say the integrated solution helps fleets ensure timely load delivery and reduce fuel consumption to improve the overall return on investment in using In-Cab Navigation.
Qualcomm collaborates with truck-specific navigation providers to deliver its In-Cab Navigation application, which provides up-to-date, interactive maps for dynamic truck routing with turn-by-turn directions. ALK Technologies' CoPilot Truck is available on Qualcomm's MCP50, MCP110 and MCP200. NaviGo powered by Telogis is available on the MCP100, MCP110 and MCP200.
"With the integration of McLeod's comprehensive trucking dispatch operations management system and Qualcomm's In-Cab Navigation application offerings, drivers no longer have to key-in address information to develop a route solution for their next stop – it's automatically sent to their in-cab navigation," said Robin Hamlin, third-party integration manager for McLeod Software. "This offers fleets an increased advantage when it comes to the safety and productivity of their drivers through the availability of detailed and accurate route information."
This latest integrated offering is available immediately to fleets using Qualcomm's mobile fleet management solutions and McLeod's LoadMaster dispatch software. "At Qualcomm, we continually look for ways to improve on-the-road experiences by advancing our solutions through ongoing collaboration with leading industry providers," Ellis said. "By leveraging the automation capabilities of in-cab tools, fleets can improve both efficiency and the driver experience."