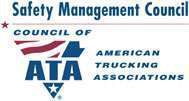 The American Trucking Association's Safety Management Council announced its 2012 award winners last week at its Safety & Human Resources National Conference & Exhibition in Kansas City, Mo.
The ATA President's Trophy recognizes the three companies whose fleets have been judged to have the best overall safety programs from the Truck & Industrial Safety Contests that judge motor carriers from across the United States on their safety accomplishments and safety records relative to others within their operation type and size.
The top three ATA President's Trophy recipients are honored for their superior safety achievements, outstanding commitment to industrywide safety and extensive promotion of safety among all highway users.
• 2012 ATA President's Trophy (sponsored by Great West Casualty Co.):
1. Large fleet winner (over 100 million miles annually): Bison Transport US, Winnipeg, Canada
2. Mid-size fleet winner (between 25-100 million miles annually) Cargo Transporters Inc., Claremont, N.C.
3. Small fleet winner (under 25 million miles annually) CLI Transport, Claysburg, Pa.
• ATA National Driver of the Year (sponsored by Custard Insurance Adjusters): Ronald Fuller, Central Freight Lines, Dallas
• National Safety Director of the Year (sponsored by Great West Casualty Co.): Bob Petrancosta, Con-way Freight, Ann Arbor, Mich.
• National Safety Professional Award of Excellence (sponsored by Meritor WABCO): James Ransom, CDS, director of safety, Boyd Brothers Transportation Inc., Clayton, Ala.; David Guess, CDS, Usher Transport, Louisville, Ky.; and Tom DiSalvi, CDS, Schneider National Carriers, Green Bay, Wis.
• Excellence in Safety (sponsored by Great West Casualty Co.): Tennessee Trucking Association
• Excellence in Human Resource Management (sponsored by eScreen): Covenant Transport, Chattanooga, Tenn.