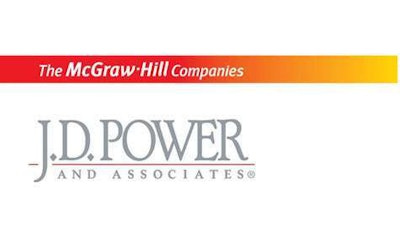 Although reported fuel economy and quality have improved for medium-duty trucks, the impact on satisfaction with new engines meeting the 2010 U.S. Environmental Protection Agency emissions regulations is negligible even as fuel prices rise, according to the J.D. Power and Associates 2012 U.S. Medium-Duty Truck Customer Satisfaction Study released Friday, Sept. 21.
The study found that reported fuel economy for medium-duty trucks increased12 percent in 2012 compared with 2011. In addition, problems per 100 trucks (PP100) improved to 123 PP100 this year from 141 PP100 in 2011. Even with these positive improvements, customer satisfaction with medium-duty trucks remained flat at 757 on a 1,000-point scale in 2012, unchanged from 2011.
"Even with advances in fuel economy and quality, the cost to manage truck fleets continues to increase, negatively impacting satisfaction," said Brent Gruber, director of the commercial vehicle practice at J.D. Power and Associates. "Higher fuel and truck prices have impacted satisfaction, pushing principal maintainers to look at other cost savings options. However, they have concerns regarding new alternative fuel technology."
In addition, about 50 percent of fleet maintainers are familiar with the most popular alternative powertrains, but concerns with expected quality/reliability, availability of fuel/fueling stations and engine performance/acceleration are the primary reasons they are not considering purchasing trucks with these technologies.
Among all electric, hybrid, natural gas and propane autogas powertrain options available, the top reasons for purchase consideration are emissions/environmental impact and future cost savings. However, depending on the specific powertrain technology, between only 3 and 6 percent of fleet maintainers said they "definitely will" consider purchasing such a truck.
"While fleet maintainers realize the potential long-term cost benefits of alternative fuel powertrains, reliability and fueling infrastructure are reasons for concern, resulting in much of the industry waiting to see the technology prove itself before making the investment," Gruber said. "In order for trucks with alternative powertrains to gain widespread market acceptance, truck manufacturers and energy providers will need to assure customers that they will not be sacrificing durability, payload capacity or ease of fueling with these new technologies."
The 2012 study measured customer perceptions of 2011 model-year Class 5-7 commercial trucks. Within the product index, six factors were used to determine overall satisfaction: engine, warranty, cost of operation, cab and body, ride/handling/braking and transmission. The study also measured satisfaction with services received from an authorized truck dealer. Six factors comprise the service index: service facility, service quality, service adviser, service initiation, service delivery and service price.
The study – now in its 20th year – also found that Class 5 trucks continued to have the highest quality levels in 2012, averaging 86 PP100. In comparison, Class 6 trucks average 151 PP100 and Class 7 trucks average 141 PP100.
With a score of 820, Hino ranked highest in customer satisfaction within the conventional truck segment for a third consecutive year. In its first year of inclusion in the study, Dodge (Ram) ranked second with a score of 806, while Freightliner (768) followed.
The 2012 U.S. Medium-Duty Truck Customer Satisfaction Study was based on responses from 1,272 primary maintainers of 2011 model-year Class 5-7 conventional cab medium-duty trucks. The study was fielded between June and July.