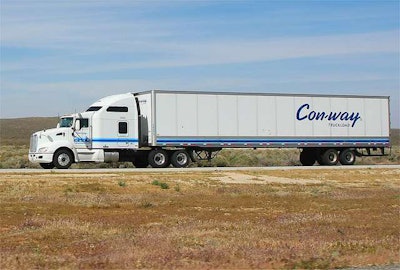 Con-way Truckload announced that professional driver Rick Primmer of Spokane Valley, Wash., recently achieved three million miles of driving. During Con-way Truckload's 61-year history, only 14 of its drivers have reached the three-million-mile driving milestone.
"Driving three million miles is the same as driving the circumference of the earth 120 times," said Saul Gonzalez, chief operating officer of Joplin, Mo.-based Con-way Truckload. "This is a very impressive feat. I want to congratulate Rick and thank him for his commitment to safety and dedication to professional driving."
Primmer, 53, has been a professional driver since 1988. He reached his first million miles with Con-way in 1996 and his second million in 2004.