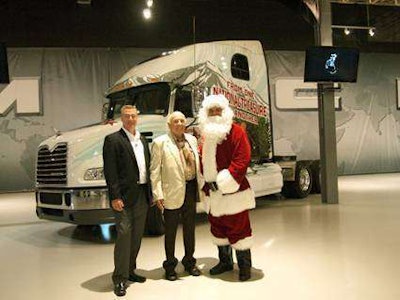 Mack Trucks on Thursday, Oct. 4, unveiled the custom-decorated Pinnacle holiday model that will be driven by former U.S. Sen. Ben Nighthorse Campbell as he hauls the 2012 Capitol Christmas Tree from Colorado to Washington, D.C. Campbell, who represented Colorado from 1993-2005, also helped transport the Capitol Christmas Tree in 2000.
The theme of the design is "From One National Treasure to Another," pointing to Mack's 112-year legacy. The truck features Mack the Bulldog hauling a massive tree through the snow, with large mountains in the background.
"The Capitol Christmas Tree is a great tradition in the United States, and Mack is proud to once again participate in the project," said John Walsh, Mack vice president of marketing. "The design for this year's Pinnacle model captures Mack's legendary durability and reliability in a unique and fun way. "
Choose Outdoors, a national nonprofit coalition for outdoor recreation, is coordinating the 2012 Capitol Christmas Tree tour with the White River National Forest. The tour officially begins Nov. 3 in Meeker, Colo., where the tree will be harvested from the 2.3 million-acre forest located in the Rocky Mountains.
Following a celebration in Meeker, the tree will be wrapped and embark on its route to the nation's capital, stopping at numerous cities and towns throughout Colorado, Oklahoma, Texas, Missouri, North Carolina, Pennsylvania and Virginia.
The SmartWay-certified Pinnacle Axle Back model sleeper is equipped with a trailer donated by Hale Trailer Brake and Wheel of Allentown, Pa. The trailer will be fitted with a custom-built cradle to support the tree's branches.
The tree will find its holiday home on the Capitol lawn shortly after Thanksgiving, when it will be decorated with ornaments made by Colorado youth and lit with 10,000 low-energy LED lights in a ceremony led by Speaker of the House John Boehner (R-Ohio).
Mack most recently provided a truck for the Capitol Christmas Tree Project in 2011, when the tree traveled cross-country from Stanislaus National Forest in California's Sierra Nevada Mountains. Since 1964, U.S. national forests rotate the responsibility of providing a tree for the Capitol.