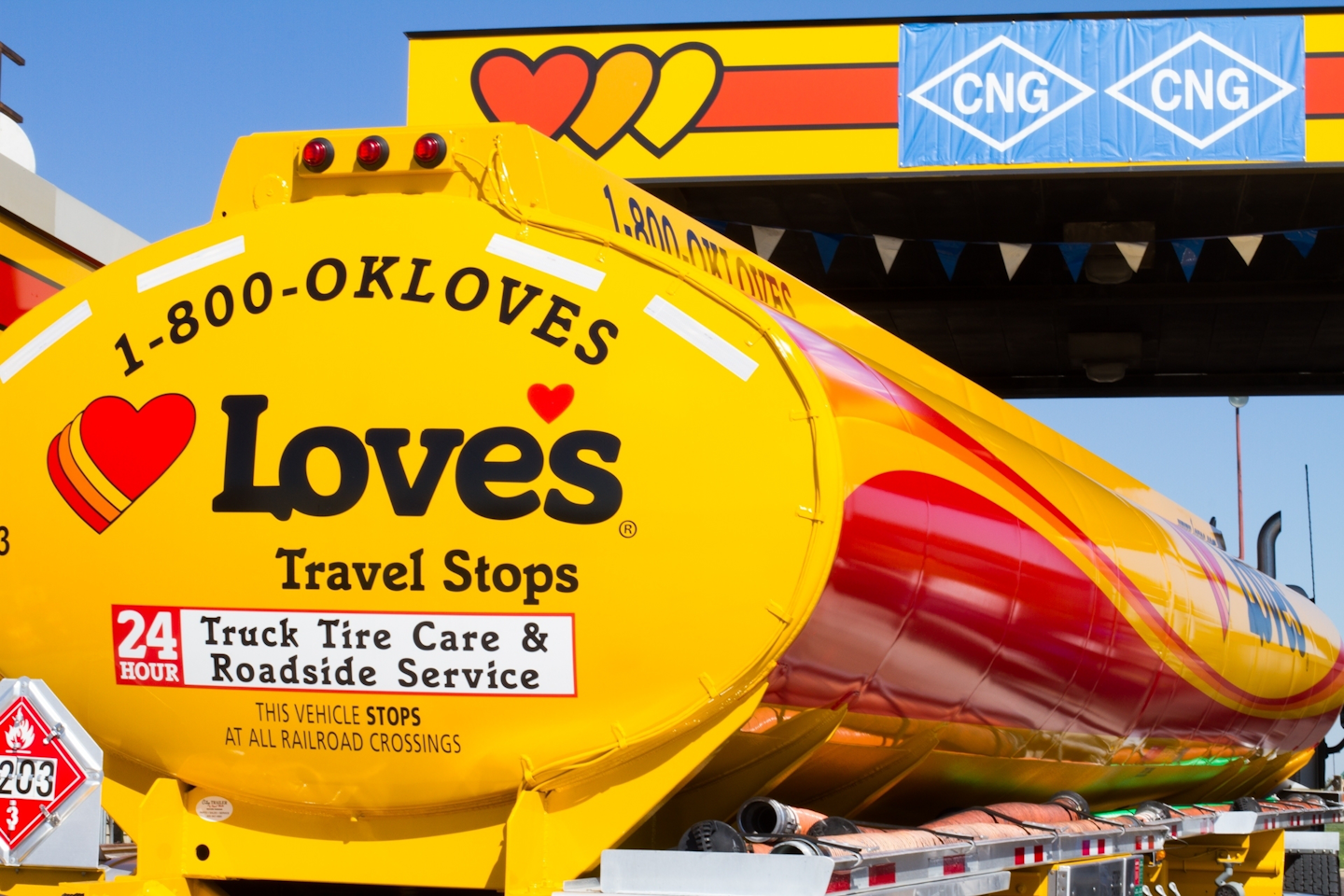 Love's Travel Stops on Monday, Oct. 8, announced the opening of its first compressed natural gas fuel facility designed for rapid fueling of heavy-duty trucks. The fast-fill CNG pumps are located at the Love's Travel Stop on Interstate 40 at the Morgan Road exit west of downtown Oklahoma City.
Love's said it also is testing a Cummins Westport CNG engine in one of its own fuel delivery trucks, with plans to order more CNG engines for their 300-truck fleet. Current CNG fill rates for a Love's fuel tanker average 12 gallon-equivalents per minute, meaning the driver can fill a 60 gallon-equivalent tank in about five minutes. Love's said that while the fill time is still slightly more than filling up with diesel fuel, the cost savings over diesel is significant.
"A gallon-equivalent of CNG currently costs over two dollars less than a gallon of diesel," said Frank Love, Love's president of operations. "That savings adds up quickly for professional truck drivers filling up their tanks every day. After extensive research on natural gas alternatives, we see a significant cost benefit in using CNG for our fuel delivery truck fleet, and we see an opportunity for trucking fleets with regional hauling operations to also take advantage of the cost savings with CNG. With the opening of this fast-fill CNG facility in Oklahoma City, and potentially more locations in the future, Love's is offering our trucking customers a viable fuel-savings option. With our team's expertise, we stand ready to work with trucking fleets to find a natural gas solution that best fits their operating needs."
Love's said it currently is talking with several trucking fleets and is looking to expand the availability of fast-fill CNG at its travel stop locations across Oklahoma and Texas. The company said it will continue to monitor demand for CNG among Class 8 drivers and trucking fleets as it adds CNG pumps in the future.
Love's began offering CNG for light-duty and consumer vehicles at smaller locations in its home state of Oklahoma in early 2011 through a partnership with Chesapeake Energy.