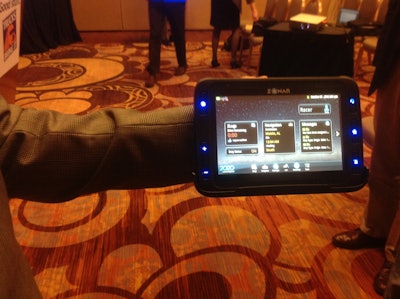 Zonar on Sunday, Oct. 7, introduced a new driver-optimized tablet at the American Trucking Associations' Management Conference & Exhibition in Las Vegas, Nev. The Zonar 2020 is an Android-powered rugged tablet loaded with driver-specific features designed to boost safety, productivity and communications while out on the road.
The new tablet comes with a 7-inch display screen and can be customized with purchased or proprietary apps and is designed to deliver a wide range of information to drivers, from navigation, pre- and post-trip inspections, hours of service and real-time driver coaching, which Zonar said will be the next frontier in the battle for improved fuel economy. The 2020 tablet will be compatible with future electronic onboard recorder systems and includes a camera to expedite accident reporting, as well as short, over or damaged loads.
The new tablet will retail for about $500. According to a press release from Zonar, the navigation dashboard for the new tablet will display an hours-of-service clock and miles-per-gallon reading. The tablet will also include a 7" widescreen resistive-touch display, SD/MMC card slot, 5 megapixel camera with LED flash, video recording capability, in-cab training, Bluetooth and built-in flashlight.