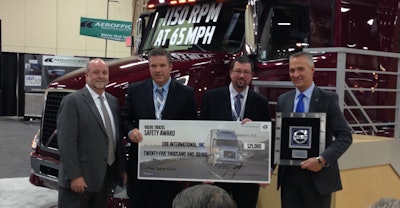 Volvo Trucks and Michelin America Truck Tires recognized Muñoz Trucking and Erb International as the recipients of the Volvo Trucks Safety Award in recognition of their safety cultures with low accident frequency rates and comprehensive safety programs.
"Erb International and Muñoz Trucking have clearly demonstrated the importance of safety within their organizations," said Magnus Koeck, Volvo Trucks vice president, marketing and brand management. "We're pleased to acknowledge those commitments and how they translate into safe performance on the road."
New Hamburg, Ontario-based Erb International won the award in the over 20 million miles category. In 2011, the 240-truck fleet logged more than 27 million miles with an accident frequency rate of .294 per million miles.
Erb International established an employee and driver wellness program, supports driver participation in Truck Driving Championships, offers a driver performance monitoring and incentive program and collects driver performance data for use in developing driver risk assessment reports. They also stress preventative safety through a hazard prevention program, active communication of safety reminders in all terminal drivers' rooms and available driver supervisors and trainers at each terminal.
Muñoz Trucking, based in El Paso, Texas, won the award in the under 20 million mile category. The dry van hauler completed 2011 with more than 10 million miles without recording a single recordable accident.
Muñoz Trucking focuses on enforcing safety policies and identifying potential driver issues and rewards safety compliance, providing driver bonuses for every clean U.S. Department of Transportation inspection and a yearend bonus for remaining accident-free throughout the calendar year.