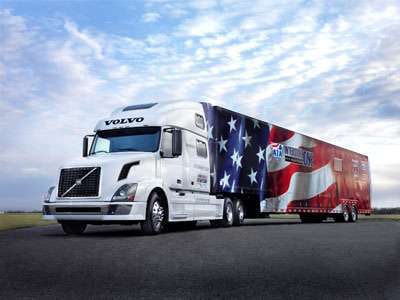 At the American Trucking Associations' Management Conference & Exhibition in Las Vegas, Nev., Volvo Trucks on Monday, Oct. 8, announced its ongoing support for America's Road Team, which uses drivers with proven safety records to spread awareness about highway safety and foster understanding about the crucial role that trucking plays in the economy. In addition, Mack Trucks and Michelin North America announced that they will sponsor the Share the Road program again in 2013.
Volvo Trucks has sponsored the America's Road Team program for more than a decade. "Volvo Trucks' support of America's Road Team is one of our proudest partnerships," said Magnus Koeck, Volvo Trucks vice president, marketing and brand management. "The work that America's Road Team does nationwide is indispensable, and there is great synergy between the team and Volvo's commitment to safety."
Members of the America's Road Team, called Captains, speak to lawmakers, government officials, students, regulators and other drivers to increase awareness about the essential nature of America's trucking industry and the importance of highway safety. The Captains have logged millions of miles behind the wheel without an accident and are chosen only after a rigorous selection process.
"The trucking industry could not ask for better ambassadors than the America's Road Team Captains," Koeck said. "Volvo believes that education is the cornerstone for driver safety, and we are certain that the Road Team positively affects countless lives every year."
Share The Road, designed to enhance the safety of America's roadways by teaching car drivers how to drive safely around large trucks, uses professional truck drivers with exemplary safety records to educate people about potential blind spots, safe following distances, truck stopping distances and other important topics.
"Mack Trucks is dedicated to making America's roadways as safe as possible, and we consider the Share the Road program to be a vital partner in that effort," said John Walsh, Mack vice president of marketing. "The professional drivers involved in the program educate millions of Americans about safe driving practices when sharing the highway with commercial vehicles. We also want to recognize all of the fleets that support the participation of their drivers in Share the Road. The lifesaving messages they deliver are critical to highway safety."