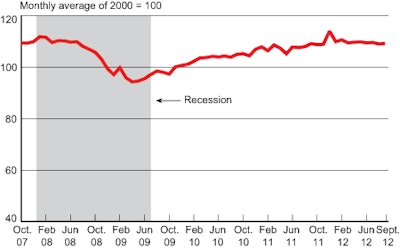 The amount of freight carried by the for-hire transportation industry rose 0.2 percent in September from August, rising after a one-month decline, according to the U.S. Department of Transportation's Bureau of Transportation Statistics' Freight Transportation Services Index released today. The September 2012 index level, 109.2, was 15.8 percent higher than the April 2009 low during the recession.
That number is 4.2 percent lower than the all-time high — 114.0 in December 2011.
The Freight TSI measures the month-to-month change in freight shipments by mode of transportation in tons and ton-miles, which combine to make the index.