Preowned but perfect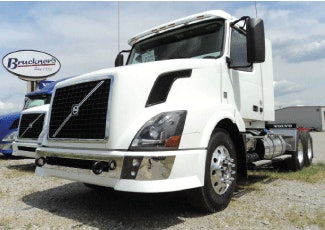 Medium-duty buyers consider many options when shopping for the right used truck
By John G. Smith
Medium-duty trucks may have lower gross vehicle weight ratings than their Class 8 counterparts, but they are hardly the lightweights of America's transportation network. They are responsible for delivering everything from supplies to finished products. Specialty equipment fitted with everything from dump bodies to plows and PTOs become tools in their own right.
Most of them will support more than one business during their lifetime. While buyers of new equipment have the most influence over a truck's ultimate specifications, buyers of used trucks have demands of their own.
Rick Rosado, general sales manager of Longwood Truck Center in Longwood, Fla., is blunt when he describes the demand at the top of the list: the sticker price. "I'm selling a truck today that doesn't have air conditioning," Rosado says, referring to the way that cost-conscious customers are willing to sacrifice creature comforts to keep budgets under control.
The lower sticker price is what drives many buyers to used equipment in the first place. Beyond that, most medium-duty buyers search for trucks weighing less than 26,000 pounds so operators will not require a commercial driver's license.
But any truck still must be matched to the tasks it will perform. A small household mover deciding between a 24-foot truck and its 16-foot counterpart will need to know if he plans to move five rooms of furniture in a load, or can live with smaller shipments of three to four rooms at a time.
Measuring up
Some equipment simply will offer more flexibility than other options. Ryan Linson, medium-duty sales and marketing manager for Bruckner's Truck Sales in Albuquerque, N.M., tends to prefer "plain Jane" truck specifications that can serve the widest range of users.
Most of those searching for dry vans are going to look for models between 16 and 24 feet whether or not they have a liftgate, Linson says. The most popular box designs tend to be at least 24 feet long, and while the longer lengths are not for everyone, shorter versions simply may be hard to come by, Rosado says.
"There are a bunch of contractors who don't want to go to a big 24-footer," he says. "The last time I had an 18-foot box, I had a gentleman fly in from Missouri to pick it up," he says. That model was put into service moving furniture as a subcontractor for Sears.
It isn't the only way that dimensions make a difference. A 102-inch internal dimension is required to set a pair of skids side by side, making it vital for anyone who loads freight with a forklift, serves the automotive industry or tends to "cube out" and fill every corner.
Regional limits also come into play, says Mark Fritcha, corporate sales manager – medium-duty at Stoops Used Truck Center in Indianapolis. "In Chicago, they don't want the tall body for their bridge issues," Fritcha says.
Meanwhile, anyone who hopes to roll a forklift on board will be looking for at least a 91-inch door opening, says Ron Wroblewski, owner of L & K Truck Body outside of Concord, N.H. Those who load cargo with push carts may embrace the smaller measurements, Wroblewski says.
Internal heights are so important to a truck's capabilities that Bruckner's leasing division specs versions that are no lower than 96 inches, even when a customer is willing to embrace an 85-inch interior inside a 24-foot van.
As popular as a "plain Jane" truck may be, there is still a market for specialized configurations. Companies working in agricultural businesses always are looking for 12,000-pound steer axles and 36,000- to 40,000-pound rears, Fritcha says. "You can do a lot with that," he says.
Power plays
Most buyers of medium-duty trucks gravitate toward diesel power and automatic transmissions, says Wroblewski.
Fritcha says cost-conscious buyers often will ask for engines that were designed to meet earlier standards for exhaust controls. Every shift in the U.S. Environmental Protection Agency's emissions requirements required added hardware that came at a price.
While fuel economy is a top concern for most buyers, few of them will understand the difference that can be expected between one generation of engines and the next, Linson says. "It's not like the Class 8 market where a lot of the customers are a bit more educated," he says. "They're counting on their salesperson to have the knowledge and expertise."
Powertrain requirements also will vary by region. Tim Lower, medium-duty sales manager for R and R – a Mack, Volvo, Isuzu and Hino dealership in Youngstown, Ohio – says his buyers prefer 260 horsepower under the hood of a 26,000-pound truck to handle the hilly terrain of Pennsylvania and West Virginia more easily while still optimizing fuel economy.
Geography can make another difference. In the Midwest or northern states, users tend to look for cold-weather equipment, Lower says. The trucks may not need to heat sleepers, but they will benefit from packages that include block heaters, glow plugs and heated mirrors.
The condition of any used truck will play a role in any buying decision, and sellers offer different levels of inspections prior to the sale. Penske has a preparation process that includes checking under the chassis; inspecting the steering assembly; checking the upper chassis, engine and electrical operation; and inspecting components such as the fuel line, throttle linkage, water pump, belts, windshields, interior conditions and radio. Cosmetic changes include removing company decals, touching up the bumper and wheel paint, and checking the tires and wheels.
The numbers on the odometer also will play a role in any related decision. "Most people that are looking for what's perceived as a good buy or a good value [want] a unit that has less than 125,000 miles on a diesel engine," Linson says. If a gasoline engine is under the hood, the threshold is closer to 100,000 miles.
Those exploring late-model used vehicles also will pay particular attention to the available warranty, Lower says. After all, the longer the truck will live, the longer a business can prosper.