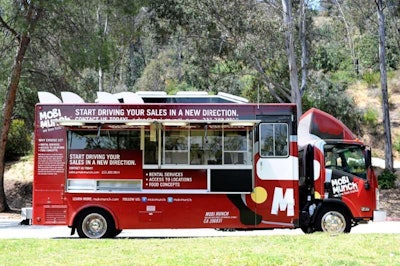 Isuzu Commercial Truck of America, Inc., announced today that nine Isuzu NRR diesel cab chassis outfitted as food trucks by Mobi Munch, Inc., have been placed into service on college campuses throughout the United States. Now operating its three brands on nine purchased and customized Isuzu NRR medium-duty trucks, Mobi Munch will be launching new trucks on other campuses in early 2013.
"The food-truck trend is growing dramatically across the country, and it represents a major opportunity wherever people are looking for affordable, contemporary cuisine at times and in places the typical restaurant might not operate," said Shaun Skinner, executive vice president and general manager of Isuzu Commercial Truck of America. "We are thrilled that Mobi Munch has recognized that the ruggedness, durability, fuel efficiency and environmental friendliness of Isuzu NRR trucks lend themselves to upfitting as food trucks."
Isuzu-based Mobi Munch food trucks have opened in these cities during fall 2012:
 Conway, Arkansas
 Fort Myers, Florida
 Gainesville, Florida
 Knoxville, Tennessee
 Tempe, Arizona
 San Antonio, Texas
 Tallahassee, Florida
 Tuscaloosa, Alabama
 Waco, Texas
Each truck operates using one of Mobi Munch's proprietary brands, menus and operating systems: La Lola Loca (Latin street eats); Fàn Boy (Asian fusion cuisine); or Biker Jim's (gourmet hot dogs).
The Isuzu NRR is a 19,500-lb. GVWR low-cab-forward truck powered by Isuzu's 4HK1-TC 5.2-liter diesel engine. The overhead cam, turbocharged, intercooled powerplant generates up to 215 horsepower. The engine is exceptionally clean as well—in fact, Isuzu's N-Series trucks were the first on the market to meet the most stringent emissions standards in the world. The NRR is EPA 2010 compliant, California Air Resources Board HD-OBD compliant, and 50-state clean- idle certified.
Isuzu says these accomplishments in power, efficiency and environmental friendliness are matched by long-term reliability. The Isuzu 4H engine can run for up to 10,000 miles between oil changes and boasts an astonishing B10 durability rating of 310,000 miles, meaning that 90% of 4H engines will reach that mileage before requiring an overhaul.
"Food-truck operators demand vehicles rugged enough to haul thousands of pounds of restaurant equipment but durable enough to count on, day in and day out," said Josh Tang, CEO of Mobi Munch, Inc. "And today's consumers are especially concerned about the impact that all vehicles have on the environment. The payload, power, economy and small carbon footprint of the Isuzu NRR make it a perfect choice for modern food-truck application."
Operators are delighted by the NRR's creature comforts, as well, including standard air conditioning and a cab that legally and comfortably seats up to three (eliminating the additional cost of transporting a third employee to and from the truck's location).
"Trucks are the one sector of the food-service industry that's still growing," Tang said. "Every chef needs a truck as much as every chef needs a website. Our goal is to make it easy for restaurant owners to become mobile—and with Isuzu trucks, we are accomplishing that goal."