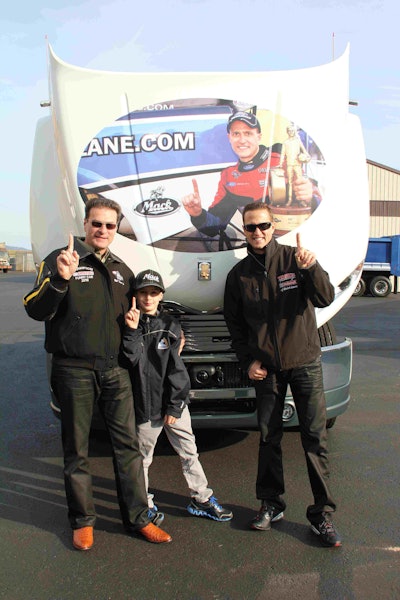 Bob Tasca III, the owner of Tasca Racing and one of the fastest drivers in the National Hot Rod Association (NHRA), visited the Mack Customer Center today to meet with employees and to see one of the custom-designed Mack Pinnacle Axle Back model sleepers that will haul his team's car and equipment for the next three years.
Mack Trucks announced in November that it would serve as an official sponsor of Tasca Racing, a Mello Yello Series race team based in Charlotte, N.C.
"Having Bob Tasca see our product showroom and meet with our employees demonstrates the great partnership we have with Tasca Racing," said John Walsh, Mack Trucks vice president of marketing. "Both Mack Trucks and Tasca Racing are known for precision engineering, toughness and durability – Bob's visit further reinforces the synergy between our two brands."
Tasca, accompanied by his father, Bob Tasca, Jr., met with Mack employees and signed autographs before his new Pinnacle was unveiled for the first time.
Built in the U.S.A. at the Macungie Operations facility in Pennsylvania, the Mack Pinnacle models are equipped with 505 hp Mack MP8 engines and Mack mDRIVE automated manual transmissions, maximizing performance, fuel efficiency and driver comfort for the race team as they travel nationwide.
Over the course of his career, Tasca has consistently competed in the Funny Car Countdown to the Championship and is among the elite drag racing drivers in the sport, with a career best speed of 314.46 miles per hour. Also backed by Ford and Ford Customer Service Division brands Motorcraft and Quick Lane, he is a third-generation drag racer and vice president of the Tasca Automotive Group based in Seekonk, Mass. and Cranston, R.I.
"It was our privilege to present the Mack Pinnacle models to Bob so he can experience Mack's promise of quality and strength first-hand," said Walsh. "With near-zero emissions and the hauling power to move Tasca Racing from coast to coast, our trucks deliver the same performance on the highway that the Tasca car delivers at every race."