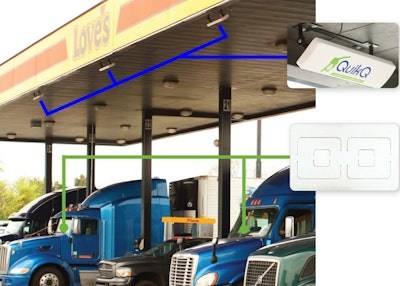 QuikQ, creators of the SmartQ cardless fueling system and DFConnect transaction software, announced it has been awarded North American VAR Partner of the Year by Impinj, Inc., a provider of UHF radio frequency identification (RFID) technology.
"The rapid growth of QuikQ and sheer volume of Speedway RFID reader deployments in 2012 is outstanding," said Scott Medford, Senior VP of Sales for Impinj. "Their successful deployments, dedication to customer success, and ability to deliver a truly 'industry transforming' technology made QuikQ the clear choice for our North American VAR Partner of the Year award."
Industry veteran, Ernie Betancourt, founded QuikQ in November 2009 following a career as the CEO of Innovative Computing Corporation and lead founder of Trendar Corporation.
"It was a pleasant surprise and honor to have been selected for this award by a such an innovative and world leading provider of RFID technology," Betancourt said.
Exclusively distributed by business-to-business electronic payments provider, Comdata Corporation, the SmartQ system is a cardless fueling program that uses RFID technology to initiate transactions at the fuel island instead of requiring the presence of a card to facilitate the process.
SmartQ is a faster and more efficient way for commercial vehicle drivers to fuel while also reducing fraudulent transactions and streamlining the entire fuel purchasing process, the company says. Over 1,000 SmartQ systems utilizing the Impinj Speedway Revolution RFID Readers have been installed at truck stops and travel centers nationwide.