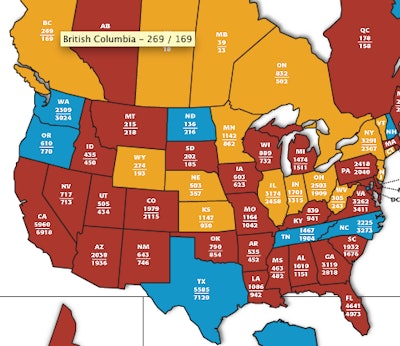 The annual Migration Patterns survey from Atlas Van Lines found in 2012 that the Southwest and Mid-Atlantic states continue to grow as destinations for Americans on the move. The results of the study were released last week.
In addition to a color-coded map showing inbound and outbound moves last year, Atlas has also put together an infographic — available here — showing 10-year regional trends for the U.S. and Canada and the states and provinces with the most movement in 2012.
The highest number of moves occurred in California, Texas and Florida. California comes in at the top with nearly 13,000 moves in 2012. For the seventh consecutive year, Washington D.C. had the highest percentage of inbound moves, with 63 percent of all moves being inbound. Nebraska and New York beat out Ohio for the highest percentage of outbound moves, with outbound moves accounting for 58 percent of each state's total.
Click here to see Atlas' Migration Patterns map and click here to check out the company's infographic.