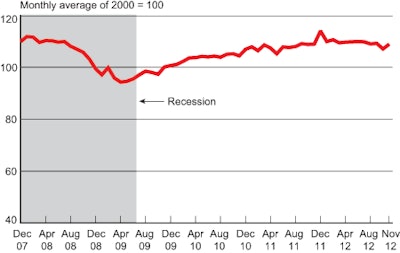 Holding true to the overall post-recession trend, the amount of freight carried by the transportation industry rose 1.7 percent in November from October, making up for October's slump, according to data released this week by the U.S. Department of Transportation's Bureau of Transportation Statistics' Freight Transportation Services Index.
The index has risen 15.5 percent since April 2009's low during the recession.
The TSI reached an all-time high in December of 2011, and November's reading was 4.5 percent below that.
The Index is a compilation of data from trucking, rail, inland waterways, pipelines and air freight and measures monthly changes in freight shipments in tons and ton-miles.
BTS says that November received a push from rebuilding and recovery efforts in the Northeast from Hurricane Sandy, which had squashed freight for truck and rail in October.