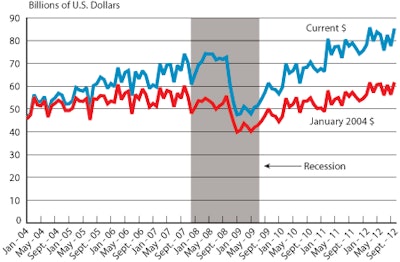 According to numbers released last week by the Bureau of Transportation Statistics and the U.S. Department of Transportation, trade using surface transportation between the United States and its North American Free Trade Agreement partners, Canada and Mexico, jumped 7.9 percent in October 2012 from October 2011 to a total of $85.3 billion.
In numbers unadjusted for inflation, October 2012 value of U.S. surface transportation trade rose 38.9 percent from October 2009 — just after the end of the recession.
Surface transportation includes freight movements by truck, rail, pipeline, mail, other modes of transport, and goods moving into Foreign Trade Zones. In October, 86.5 percent of U.S. trade by value with Canada and Mexico moved via land, 9.5 percent moved by vessel, and 4.0 percent moved by air.