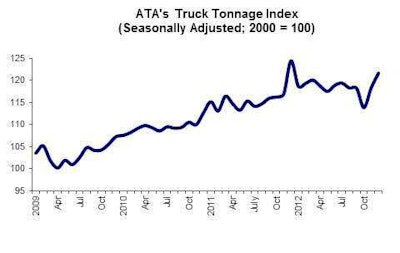 The American Trucking Associations' monthly Truck Tonnage Index rose for the second straight month in December, coupling with November's rise for the year's biggest gains by far, said ATA.
The advanced seasonally adjusted For-Hire Truck Tonnage Index rose 2.8 percent in December from November, after seeing a 3.9 percent gain the previous month. However, the index was still down year over year 2.3 percent — the worst year over year result since 2009.
However, the index is still at its second highest point since the most recent recession. ATA economist Bob Costello says he sees more sluggishness ahead for the index, especially early in 2013, due mostly to the tax increase at the beginning of the year.