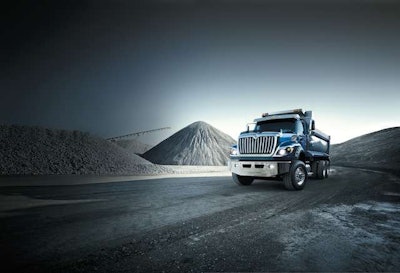 Navistar this week announced at the World of Concrete show in Las Vegas that it will be adding selective catalytic reduction exhaust aftertreatment to its International WorkStar vocational model trucks. The trucks will have under the hood Navistar's 13-liter engine equipped with Cummins SCR system, like the International ProStar+ model highway tractor.
The ProStars will begin utilizing SCR in April, while the WorkStar models with SCR will be rolled out in May.
Also at the WOC is International's new 54,000 gross vehicle weight WorkStar tractor, which, Navistar says, will be available with the Navistar 13-liter engine with SCR with up to 475 hp and 1,700-lb.-ft. of torque.
"Over the past several years, Navistar has maintained its focus on meeting the needs of its construction customers by delivering industry-leading vocational trucks and integrated mixer offerings for a wide range of applications," said Jack Allen, president of North America Truck and Parts for Navistar.