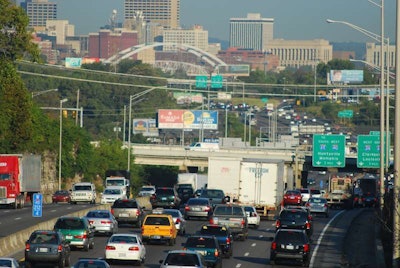 Exactly how much time and money does your company spend and/or waste in a year due to trucks stopped up in traffic somewhere? 
According to a report from Texas A&M's Transportation Institute, the industry as a whole shared a burden of about $27 billion in 2011 in time and fuel lost to congestion on the country's roads and highways. 
The total cost of congestion to the entire U.S. was $121 billion — about $818 per U.S. driver. 
Texas A&M's report — the Urban Mobility Report — was introduced primarily to offer travelers a gauge of how long it will take them to get from Point A to Point B, called the Planning Time Index. 
It also ranked the nation's most congested cities. Washington, D.C., topped the list,  followed by Los Angeles, San Francisco-Oakland, New York-Newark and Boston. Houston, Atlanta, Chicago, Philadelphia and Seattle rounded out the list. 
As the job market improves, the report says, congestion may worsen.