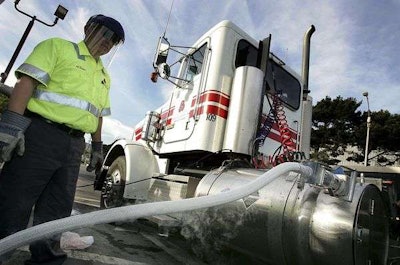 Energy management company U.S. Energy Services announced a new product that will enable fleets to determine what it would cost — and, in turn, how much it would save or not save — to convert their fleet from diesel power to compressed natural gas powered-trucks.
The announcement from U.S. Energy says that it "can help companies operating vehicle fleets by providing CNG economic analysis, station design requirements, site development, supply management and ata management services," adding that it helps clients determine if the lower prices of natural gas are worth ditching diesel for and when they will see payback.
U.S. says that switching just one truck from diesel to CNG can save up to $40,000 a year: "Natural gas prices have dropped by 43 percent since 2009 while gasoline and diesel prices have increased by more than 200 percent. Low prices and a market structure that allows for accurate budgeting and price risk management can provide a high return on investment and quick payback for conversion," says U.S. Energy's announcement.