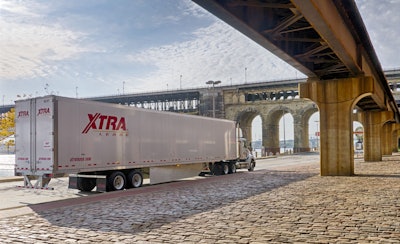 XTRA Lease said today it has ordered more than 2,000 new trailers for 2013, including a mix of dry vans, reefers, flatbeds, chassis, and liftgated van trailers.
Dry vans and reefers will receive fuel-saving aerodynamic side skirts and low-rolling resistance tires. All vans also will receive trailer tracking units to help fleets attack utilization and costs.
Since 2010, XTRA Lease says it has invested heavily in new trailer orders, adding nearly 30,000 new trailers in the past 3.5 years.
In addition, XTRA Lease is retrofitting hundreds of 2010 model-year trailers in California, making them compliant with the California Air Resource Board's (CARB) Greenhouse Gas requirements. Combined with the new recent purchases, XTRA Lease is believed to have the largest fleet of skirted trailers in the U.S. at more than 20,000 trailers.
"This is the fourth straight year we've made a large investment to keep our fleet updated and refreshed," said Bill Franz, President and CEO. "While many companies have struggled to update their fleet with newer, more reliable trailers, we can provide fleets access to high-performing and safe, newer trailers."
XTRA Lease's purchase in 2013 includes a mix of:
· Dry vans
· Reefers
· Single-drop and extendable flatbeds
· Tridem and combination tridem chassis for heavy containers
· Liftgated van trailers
Fuel-saving aerodynamic side skirts and low-rolling resistance tires have become standard features on new XTRA Lease trailers. Side skirts save fleets an estimated five percent in fuel costs, based on EPA verification and depending on number of miles and speed traveled. Low rolling resistance tires can save an additional 1.5 percent in fuel, again based on a carrier's trucking operation. Combined, the company says the two features can save fleets 6.5 percent in fuel costs.
XTRA Lease's new trailers can travel California's highways without penalty, as they comply with SmartWay and the state's Greenhouse Gas regulations.
Meanwhile, XTRA Lease will continue to install trailer tracking as a standard feature. For companies who rent, trailer tracking not only helps improve utilization, it helps customers find dormant trailers and return under-utilized equipment quickly and save on rental costs.