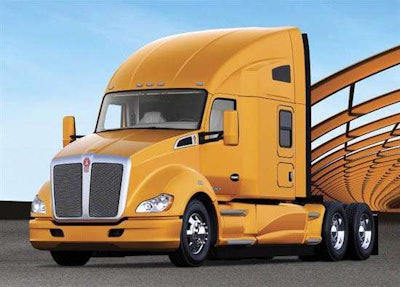 The Kenworth T680 was named the Heavy-Duty Truck of the Year Sunday at the ATD Convention & Expo in Orlando, Fla.
The truck was selected from a field of four other heavy-duty trucks by a five-member panel of journalists who evaluated the trucks at ADESA Las Vegas last October. The judging categories included innovation, design, safety and driver satisfaction.
Chief Judge Tom Berg said Kenworth's 76-inch sleeper with a Paccar MX engine impressed the judging panel with its comfort and driveability, including its pulling power from the engine, easy shifting of its 10-speed manual transmission and well set-up gauges and controls.
"I'd like to thank ATD and the independent. journalists that judged this contest," says Gary Moore, general manager at Kenworth. "This a great award for PACCAR and everyone in our team. I'd like to thank the Kenworth dealer network for everything they do every day to help our customers."
Other heavy-duty truck nominees included Cascadia Evolution equipped with Detroit D12 transmission, Peterbilt Model 579 and Western Star 4700SF.