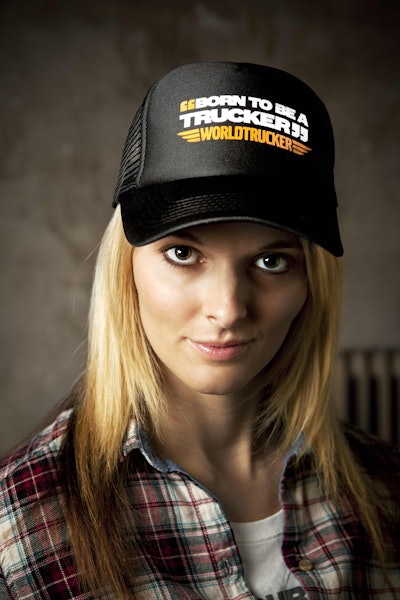 The Worldtrucker global online community is proud to announce celebrity truck driver Lisa Kelly, of the TV series Ice Road Truckers and IRT: Deadliest Roads, as its new global ambassador. Kelly and Worldtrucker will reveal the online community's new smartphone app and website in the Volvo Trucks booth at the 2013 Mid-America Trucking Show in Louisville, Ky.
An active member of the Worldtrucker community, Kelly was one of the first to try the app during her recent visit to Sweden.
"The new Worldtrucker app and website allows truckers to connect with other truckers all over the world and share their stories and passion for life on the road," Kelly said. "The Worldtrucker app is, of course, designed for truckers, by truckers. So come on, join the family."
The public reveal of the new Worldtrucker smartphone app and website will take place Saturday, March 23 at 11a.m. Eastern in booth #32125. Show attendees can meet Lisa Kelly, who will be in the Worldtrucker lounge at the Volvo Trucks booth and available for photos and autographs.
Worldtrucker (www.worldtrucker.com) is a global online community for truckers, powered by Volvo Trucks. The community helps drivers keep in touch with their families, friends and colleagues. Members can share photos from the road by uploading directly through their mobile phone.
"I like keeping in touch with the trucking community. There are a lot of things that keep truck drivers united, and that's what's cool about the Worldtrucker concept," said Kelly. "Other truck drivers can understand what you're going through, and thanks to Worldtrucker we can help each other."
By offering these social elements, Volvo Trucks hopes to increase interest in the profession and support the recruitment of new drivers. The worldwide driver shortage is a vital issue for the industry. Worldtrucker welcomes all truckers regardless of what truck brand they drive or prefer.
"We know that truck drivers have strong professional pride, and that's exactly what Worldtrucker is about – sharing that passion for trucks and for life on the road," said Paula Kühnel, Worldtrucker manager.
Initially launched in 2011, the online community now has more than 21,600 members representing more than 100 countries. Worldtrucker is available in 18 languages and its members have uploaded more than 120,000 photos of trucks and life on the road. Volvo Trucks aspires to make Worldtrucker the largest and most active truck driver community in the world.