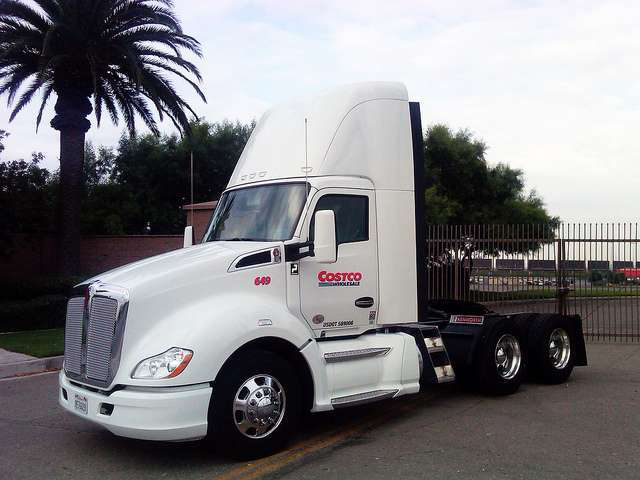 Costco Wholesale Corp. became the first PacLease customer to lease the Kenworth T680.
Costco officials say the company is realizing a significant improvement in fuel economy with the new T680, which Kenworth names as the company's most aerodynamic truck in its history.
"With the first T680, Costco saw a 7 percent improvement in fuel economy compared to the performance of the Kenworth T660, which is an industry leader in aerodynamic efficiency. As a result, Costco has decided to lease an additional 30 T680s," said Olen Hunter, PacLease director of sales. "This improvement translates into a potential savings of $18,645 per unit over a five-year lease. Costco stands to save its members and shareholders a total of $575,000 in fuel costs over the next five years with these 31 Kenworth T680s."
Hunter said the Kenworth T680 makes an important contribution to Costco's energy management and sustainability efforts. "By reducing the amount of fuel its fleet consumes, Costco also reduces emissions of greenhouse gases. That supports its efforts to reduce the company's carbon footprint, which is good for the environment." Both Kenworth models have earned EPA SmartWay designation.
Hunter said PacLease's expertise in properly spec'ing and maintaining the new Kenworth T680s helps Costco optimize its depot operations. The first Kenworth T680 was assigned to the company's Mira Loma, Calif., distribution center. The other 30 T680s will be positioned at Mira Loma and other distribution centers throughout the United States.
"Having the ability to lease trucks from PacLease means Costco can concentrate its work and expertise on managing efficient fleet operations from its depots to more than 500 warehouses in the United States and Canada," Hunter added. "PacLease's extensive network with hundreds of franchise locations means Costco's depot and warehouse managers have local contacts to help get any issues resolved quickly."
The trucks, which are equipped with 455 hp PACCAR MX engines and 10-speed manual transmissions, are optimized for fuel efficiency, and will replace older Kenworth T800's equipped with 2007 engines.
When Costco drivers heard the company was getting the new T680, they all wanted to be the first to get them, given the many new features it offers for driver comfort and productivity, Hunter said. For example, a 50 percent larger windshield offers Costco drivers greater visibility, a plus for negotiating warehouse parking lots and traffic around busy depots.
"PacLease is pleased to work with Costco Wholesale to continually improved the efficiency of its fleet operations," Hunter said. "Costco consistently challenges PACCAR to come up with options for obtaining the best possible results with a favorable impact on the environment. The new Kenworth T680 featuring the PACCAR MX engine and an optimized drive train has answered that challenge, which offers Costco drivers a comfortable and productive work environment."