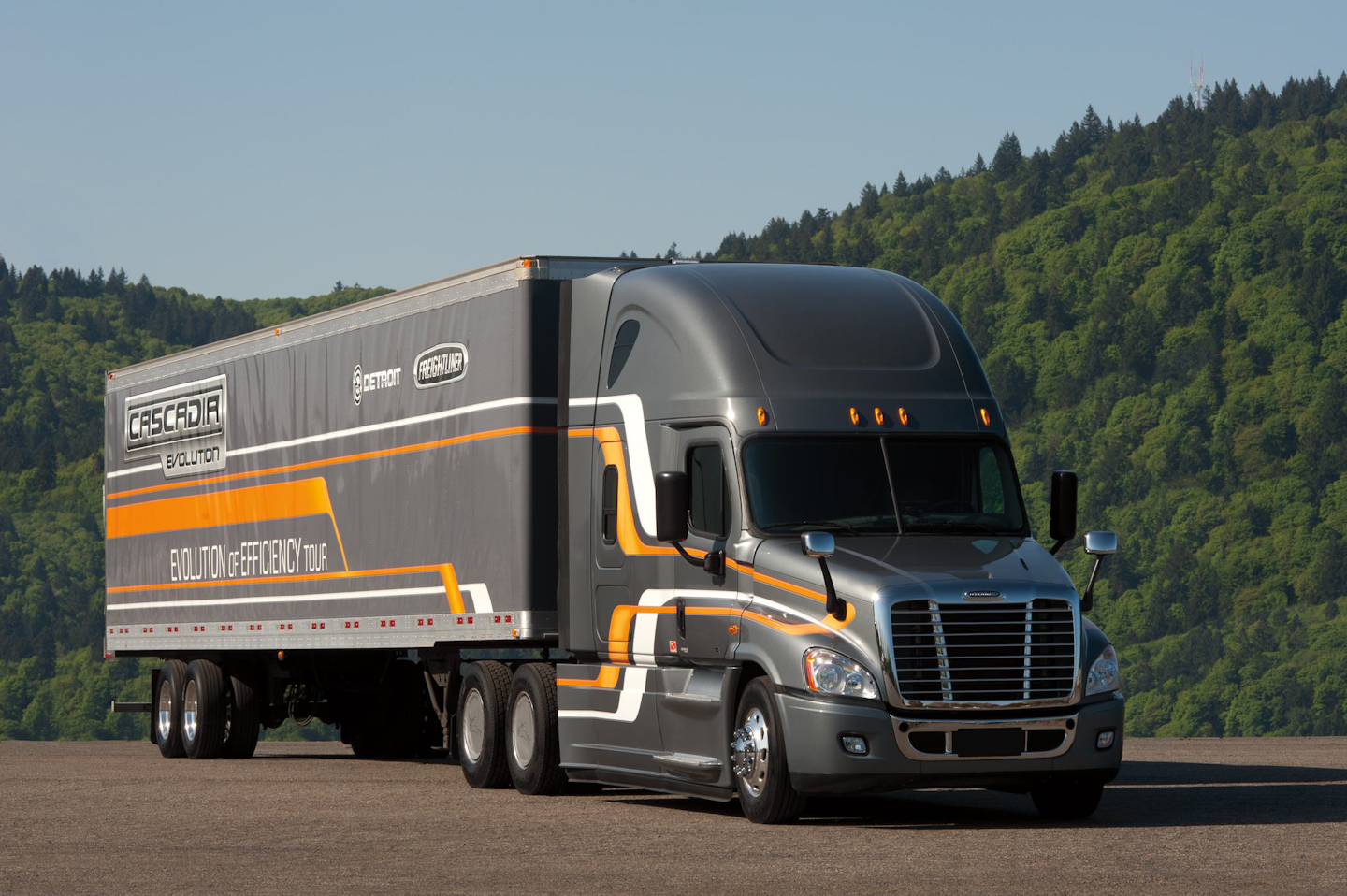 At a press conference in Los Cabos, Mexico, Daimler Trucks North America and Daimler Trucks Mexico executives announced truck sales projections for 2013 and reviewed 2012 performance.
In the Class 6-8 NAFTA marketplace, truck sales totaled 344,277 units in 2012, up sharply from the roughly 214,000 trucks sold in 2010. U.S. sales eclipsed 281,000 for the year. Expectations for 2013 is more of the same, says Mark Lampert, senior vice president of sales and marketing, DTNA.
"2012 started strong, it weakened as we went through the year," said Lampert. "As we turn our attention to 2013, our forecast is the first quarter will be the toughest and then we work our way up through 2013 and get to a point that is within 10 percent up or down from the 2012 marketplace."
Freightliner sold 111,932 Class 6-8 trucks in 2012, including 96,682 in the United States. That total represented a jump in market share from 30.5 percent in 2011 to 32.9 percent in 2012.
"In calendar-year 2013, we have market share increase objectives in every side of our business," said Lampert. "We feel we have an absolutely differentiated product in the marketplace that is the leader in fuel economy and total cost of operation and a strong dealership network."
To that end, Lampert said Freightliner tallied a 44.6 percent market share for January 2013, an all-time high, but added, "We generally outperform the market in the beginning of the year."
Perhaps the biggest achievement for DTNA in 2012 was claiming market share leadership in the NAFTA Class 6-7 market, moving from 34.1 percent in 2011 to 36.9 percent in 2012, overtaking Navistar, which finished the year at 34.7 percent (down from 39.1 percent in 2011).
"A big part of that is our product offering which we expanded significantly in the vocational market which was a cross-functional initiative throughout Freightliner and at our dealer network."
Gerhard Gross, president and CEO of Daimler Trucks Mexico, announced it achieved 28 percent growth in 2012, totaling 6,950 trucks. Much of that growth came from the medium-duty side of the business, primarily in the food and beverage industry, resulting in a 75 percent year-over-year growth and 63 percent market share for Class 6-7 trucks in Mexico.
"Our results are a clear indication of the competitive advantages that [M2 truck models] provide to our customers, particularly in terms of maneuverability and fuel consumption which are critical factors in the beverage distribution industry," said Gross.
Vision 15,000
DTNA also announced Vision 15,000, the company's international market growth goal of 15,000 non-NAFTA truck sales by bringing internationally focused DTNA products to new markets in the Middle East and Africa, and extending existing regional programs in Australia, Latin America and South Africa. DTNA currently exports roughly 10,000 trucks internationally.
To achieve Vision 15,000, the company is consolidating its strong position in existing international markets, while entering emerging markets and new vehicle segments. The initiative is being supported by a comprehensive product offensive and a strong build-up of its international organization.
"Vision 15,000 aligns our global resources and taps into the potential of new and emerging markets," said Lampert. "DTNA already has a strong foothold in our core markets, and together with the recent successful launches of products in global markets, we are confident that Vision 15,000 will be just the start."