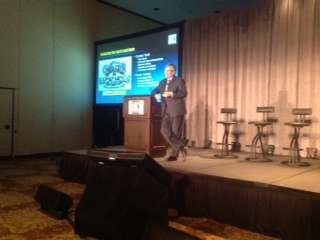 Trucks that achieve 10 mpg fuel economy "will definitely come during our professional lifetimes," Martin Daum, president and CEO of Daimler Trucks North America, told attendees Monday at Heavy Duty Dialogue 2013, produced by the Heavy Duty Manufacturers Association in Nashville. Daum recalled that when he discussed the feasibility of a 10 mpg truck at the 2010 Mid-America Trucking Show, "I got a hard time from our engineers," he said. "But most were excited and said: 'let's go for that.'"
Recently, on a trip from San Diego to Gastonia, N.C., a fully loaded Freightliner Cascadia Evolution achieved 9.31 mpg. "That's darn close to 10 mpg," he said, adding that not that long ago, that same truck would have gotten 6 mpg. "That's a major achievement."
Looking ahead to 2013 NAFTA Class 6-8 truck sales, Daum said the industry is currently not on pace to meet last year's 344,000 level. "To meet that number we'll have to considerably ramp up speed through the end of the year," he said, voicing cautious optimism that sales could be 10 percent higher than that.
"Truck makers have to be flexible," he said. "Managing the cycle is key."
Daimler is currently running a backlog that would sustain the 344,000-truck level. We needed to adjust production to that backlog," he said, referring to the announcement of Daimler laying off 1,300 workers.
The actual number of layoffs, which will be announced at the Mid-America Trucking Show this month, will be less than 1,300, he said.