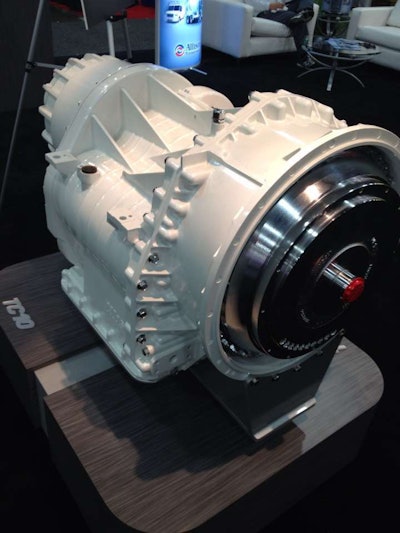 Allison Transmission said test fleet users of its TC10 tractor transmission achieved an average 5 percent fuel economy improvement over their current manual and automated manual transmissions.
"Approximately 100 major fleets throughout the U.S., representing a variety of applications, have been using our TC10 transmission in real world duty cycles over the last two years," Jim Wanaselja, vice president of North America marketing, sales and service for Allison Transmission, says.
Allison says the TC10, which was on display at the Mid-America Trucking Show in Louisville, Ky. this week, is designed for both city and highway tractor use and provides a blended architecture with full power shifts, a torque converter and a twin countershaft gear box. It is fully automatic and offers smooth shifting through 10 gear ranges.
Allison says this optimizes acceleration and fuel economy, making the TC10 ideal for distribution applications where a tractor-trailer splits its work cycle between city and highway conditions.
Rated up to 600 horsepower and 1,700 lb.-ft. of torque at its launch, the TC10 is designed with 10 forward speeds and two reverse, and comes equipped with Allison's newest generation of electronic controls that provide superior fuel economy features, prognostics to eliminate unnecessary oil and filter changes, and enhanced shift selector functionality.