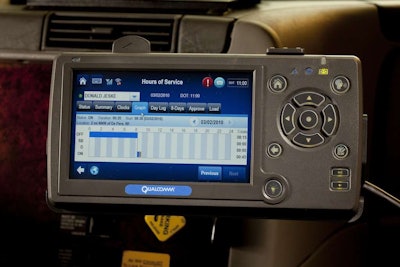 Two-thirds of carriers who responded to a recent survey from Transport Capital Partners said that they are either testing or using electronic logging devices on their fleet's trucks, while 35 percent of responding fleets are already using e-logs on all of their trucks, up from 25 percent in May of last year. Another ten percent are considering using e-logs but haven't began the transition yet, TCP says.
The results show electronic logs market penetration for February 2013 and are part of TCP's First Quarter 2013 Business Expectations Survey.
However, according to the survey, that penetration is only tied to larger carriers, as 71 percent of small carriers surveyed are still not using EOBRs at all. Nearly half of large carriers — 43 percent — have electronic logging devices on all of their trucks, says TCP's survey.
TCP says that e-log use directly ties to better CSA scores.
More and more, says TCP, carriers are taking steps to improve their CSA scores, which in the last three years has meant educating drivers and trying to weed out underperforming drivers, TCP says. According to the survey, nearly 50 percent of the surveyed fleets have changed their hiring standards as a direct response to CSA implementation.