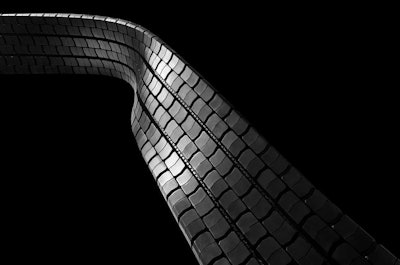 Part 1 of the Back from the Dead series on retreaded tires covers the benefits — and little or no downside — of using retreaded tires and how to implement a retread program at your fleet. Part 2 will cover how investment in a retread program can pay off in the long and short run. See it here.
If there is a prevalent frustration in the commercial tire industry today, it's that many fleet owners and truck drivers remain suspicious of retreads. As a consequence, some fleets lack a coherent used tire program – and they simply are throwing money away.
One would be hard-pressed to find a large national Class 8 fleet that does not have a comprehensive – and often highly detailed and data-driven – used tire and retread program. According to many tire makers, such programs remain underused among small and medium-sized fleets.
Up to 75 percent of the "alligators" – blown tire parts on highways – that people see actually are new tires or tires in their first life, says Mark Totten, vice president of sales and marketing for Goodyear's Wingfoot Truck Care Centers. Moreover, fleets with basic used tire programs easily can save a minimum of 50 percent on three cycles of a tire's four-cycle life.
"New tires today can be retread up to four times after their initial tread life ends," Totten says. "The cost of a retread tire is half that of a brand-new tire." Totten says the math is simple: Buy a new tire for full price, and once it wears out, it can be retreaded for half the initial acquisition cost. "You can do that up to four more times," he says. "The savings are significant."
Starting a retread program
The number of times a tire can be retreaded is situational and depends on a number of factors. Harvey Brodsky, managing director of the Retread Tire Association, says the main issues are the quality of the fleet's tire maintenance program and the applications where the tires are used.
A fleet running trucks in rocky terrain – such as building projects or unpaved roads – is far more likely to get only one retread because of damage caused to the casing. A fleet running over the highways on the interstate, where the roads generally are in good condition, will enjoy more retreading opportunities.
"A fleet with a proper and well-maintained maintenance program can get up to three retreads before the tire's life is over – one retread for use in a drive wheel position, and the other two retreads for use on trailers," Brodsky says.
Fleets starting a tire program should understand that retread and used tire programs are different in nature, says Tom Fanning, Continental Tire the Americas' director of replacement sales, North and Central America. Any tire removed from service for any reason should be inspected thoroughly by a qualified professional before the decision is made to put it back on a truck.
"Many fleets remove tires in pairs for proper matching and miss this important step on the 'good' tire that is placed in the rack for future use," Fanning says. "That lack of inspection can potentially place a questionable tire back into service and cost the fleet expensive downtime that is easily avoided." Casings sent for retreading are inspected before and after the retread process and should be ready to return to service when needed, he says.
Retreading a casing not only extends the tire's life, it also saves oil and other natural resources required to create a replacement tire; it also reduces the tire contribution to landfills.
"This can be very important for fleets interested in reducing their carbon footprint or who have specific environmental targets they would like to meet," Fanning says. Many of today's retreads also are engineered to reduce fuel consumption. "With careful selection, fleets won't miss out on the reduced rolling resistance that used to be found only with new tires," he says.
Many heavy-duty fleets set rules and standards for casings sent for retreading, and those practices can be emulated by small and medium-duty fleets.
"A linehaul fleet may set a standard that they only run casings that are no more than five years old, only have a certain number of repairs and have only been retread twice," says Ron Gilbert, Kumho Tire U.S.A.'s director of commercial tire sales.
While such standards generate more rejections, they help the fleet reduce potential road service calls and downtime by removing casings that do not meet specifications. Meanwhile, many sanitation fleets may extend the timeframe and number of allowable retreads to maximize the casing's value and use.
"In a well-maintained linehaul fleet with a good tire and retread program, it is not unusual for a fleet to get the original tread, plus two to three retreads from a tire," says Gilbert, who lists some basic starting factors to ensure a used tire and retread program's successful implementation:
The initial purchase of a good quality new tire;
A dedicated overall vehicle and tire maintenance program; and
Support by a top-quality complete-service tire dealer and retreader.
Today's retread tires retain all the characteristics of new tires, Totten says. "You can spec the exact same tread patterns on the retread tire that came on the tire when it was new," he says. "There is absolutely no degradation in terms of performance or efficiency when running retreads."
The longer a fleet can keep a casing in play, the more money it will save. "All major truck tires are designed for multiple lives," Brodsky says. "To not maximize a fleet's payback for their tire investment by retreading is crazy."