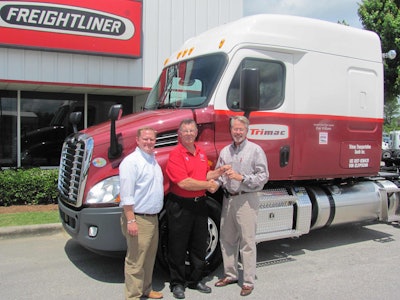 Dale Williams takes pride in helping to deliver trucking's safety message to the public, and now he'll be able to fulfill that mission behind the wheel of a new truck.
Williams, one of 19 newly appointed Captains on the American Trucking Associations' 2013-2014 America's Road Team, received a new 2014 Freightliner Cascadia on Thursday, May 30, at Birmingham Freightliner of Birmingham, Ala.
Williams, a driver-instructor for Trimac Transportation, previously was driving a 2009 Kenworth. "He's been a long-serving driver, and we wanted to put him in a newer model, especially from a recruiting standpoint," says Ricky Barker, regional shop and fleet manager for Trimac's terminal in Bessemer, Ala.
The new Cascadia has "all the bells and whistles," Barker says, including Detroit's DT12 automated manual transmission – new this month to the North American market – and Meritor's full safety package, including adaptive cruise control, rollover stability control and a lane departure warning system. The tractor is powered by Detroit's DD15 engine.
Trimac also is upgrading several more tractors with the same full slate of safety and technology systems. "Trimac is taking everything available and giving drivers the safest equipment they can," Williams says. "Technology of this kind is first-class state-of-the-art stuff."
Considering the Calgary, Alberta-based company is a bulk hauler, such systems are especially helpful, says Williams, 57, who has been driving for 36 years.
"Pulling a tanker is a challenge," especially given ever-shifting liquid loads, says Williams, who became a driver-instructor for Trimac in 2001 and since has earned several driver-training certificates. "These are tools you can use to teach safe driving cushions."
After Williams' first nine years in the trucking industry, he joined Trimac in 1986, first as an owner-operator and later as a company driver. "They may keep me full time," jokes Williams, who credits his longevity with Trimac to its flexibility in meeting the needs of individual drivers.
The Captains for America's Road Team serve for two years representing the trucking industry and delivering its highway safety message to the motoring public. The group is sponsored by Volvo Trucks North America and represents America's 3.1 million professional drivers, serving as an example of the professional dedication and teamwork needed to deliver America's freight safely and on time.
While maintaining their jobs as full-time professional drivers, the Captains travel the country speaking on behalf of the trucking industry to the community, news media and public officials. The Captains address transportation and safety issues, share safe driving tips and offer advice on how to share the road safely with tractor-trailers. They also advocate safety to those within the industry at terminals and truck stops, speaking with fellow drivers, driver training students and corporate safety officers.
To be nominated to serve as a Road Team Captain, the candidates must be employed as a company driver or leased owner-operator by a full-dues-paying member of ATA. Each nominee must have an excellent safety record and demonstrate an ability to communicate a commitment to safety and professionalism.
The current 19 Captains, with a collective 453 years of experience and more than 30.1 million accident-free miles, were selected from 32 finalists by a panel of judges from the trucking industry and related fields. The competition included a review of trucking industry expertise and a demonstration of their communication skills, combined with their lifetime safety records and community service.
So far, Williams has logged about 4 million miles, including 2.5 million safe miles; he also holds two million-mile safe driving awards. Williams and his wife of 19 years, Debra – a nurse and loyal Alabama Crimson Tide fan – live in Centerville, Ala., and have three children and three grandchildren. The couple is involved in volunteer work with their church, Victorious Life Church of Moundville, Ala. Together they've traveled on several missions to Haiti and Mexico.
Williams was honored that Trimac – the first Canadian carrier with a driver on America's Road Team – chose him to represent the company; he also was a finalist for the 2011-12 team. "We're extremely proud of Dale," Barker says. "We want to make sure he's the driving face of the company and that he has all the tools to succeed."
Williams takes his role as an industry representative seriously. "I need to be as safe as I can and make sure the public understands this and how we do things – set the right example and make people realize we do this every day, be the best professionals we can be," he says. "We all go home to our families just like everyone else. If we do our jobs right every day, no one knows it. If we make one mistake, everyone knows about it."