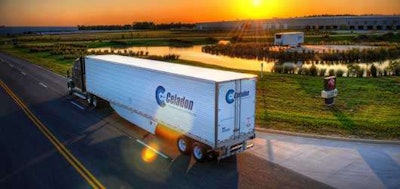 The Celadon Group, like many commercial and private fleets today, continues to move in new directions. It recently added refrigerated to its menu of truckload and intermodal services.
This new service came by way of an acquisition. In January it purchased Rock Leasing in Warren, Ind. Celadon's strategy is to grow the business by bringing capacity and efficiency to the operating table. As it has done with other acquisitions, it will integrate the additional equipment, drivers, customers and services into its own network.
Celadon is using its central load planning system, Carrier Suite from Manhattan Associates, to quickly integrate 250 reefer trailers and a group of drivers experienced in temperature-control service.
The system considers all the cost factors, or constraints, when matching equipment, drivers and loads. A Driver&Load application within Carrier Suite gives the optimal dispatch recommendations to load planners. The information has helped reduce empty miles and increase asset utilization, customer service and hours-of-service compliance.
Matt Douglass, director of planning and optimization for Indianapolis, Ind.-based Celadon, has made adjustments to the "rating system" of Driver&Load to reflect the corporate strategy for the integration and execution of its new refrigerated operations. The software breaks through organizational barriers that could otherwise restrict drivers to certain planning divisions in the company that include automotive, food and beverage, retail, manufacturing and now temperature control.
"We want to be able to integrate all of those together so that all our drivers should be able to handle refrigerated freight," Douglass says.
As part of rolling out the new temp-control service, Celadon has ordered 200 Great Dane reefer trailers based on the Everest TL model. The order includes a Carrier 2100 APX reefer unit with auto fresh air exchange and Intelliset temperature control, rear door switch, StarTrak GPS, side air chute, air return bulkhead and pallet stops. The trailers are also designed for occasional rail usage.
To enable all drivers to handle reefer loads, Celadon has two-way integration between its AS400-based enterprise software and the StarTrack GPS system. Through the StarTrack GPS trailer monitoring platform, the settings on the reefer units can be adjusted remotely.
When a refrigerated order is keyed into Celadon's AS400 platform, the temperature of the trailer that is assigned to the load based on the recommendations of Manhattan's Driver&Load, is automatically set using this integration. By virtue of this automation, a driver without experience in adjusting the settings of a reefer trailer can transport a temperature-controlled load.